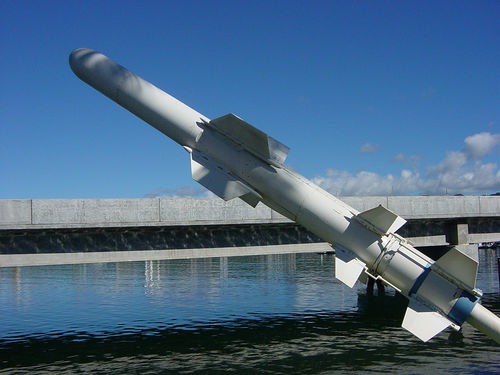 A harpoon missile on display.
The Harpoon missile is an anti-ship missile. It was built by McDonnell Douglas now a part of Boeing, Space and Security.
This missile has been in service since 1977. The missile is primarily used by the United States and its NATO allies.
The cost of a single Harpoon Block II missile in 2020 is $1,406,812.
The total number of Harpoon anti-ship missiles ever built stands at 7,500.
A single Harpoon anti-ship missile weighs 691 kg with a warhead that weighs 221 kg.
The air-launched version of Harpoon missiles is 3.8 meters long while the surface and submarine launched missile is 4.6 meters. The missile has a diameter of 13.5 inches.
The missile can hit targets as far away as 280 km depending on the launch platform.
Once fired, this missile flies so close to the sea surface to avoid counter measures. It has a maximum speed of 864 km/h.
The missile can be launched from fixed-wing aircraft, surface ships, submarines and coastal defense batteries.
Content created and supplied by: Ledward (via Opera News )