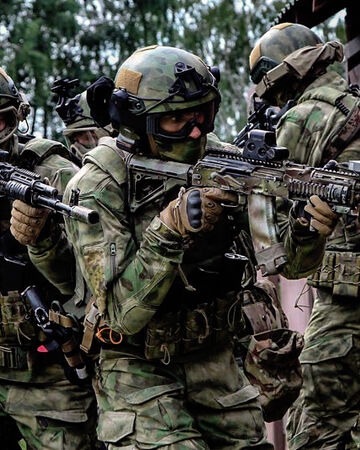 The elite of the army special forces spetsnaz of the general intelligence department since the late 60s, have successfully performed the most difficult and seemingly unthinkable tasks of the command.
Some of these tasks have only recently been declassified.
One of the first of these operations was the Vietnamese throw. In May 1968, a group of Russian spetsnaz of upto ten people attacked the secret base of the CIA located on the territory of the republic of Cambodia 30 km from the border with Vietnam.
The American military used that secret base to drop reconnaissance groups into Vietnam as well as for sorties in order to search for American special forces and downed pilots.
At that American base, on full alert there were always two units of light helicopters, ten units of transport helicopters and four units of attack helicopters known as cobra.
The target of the Russian spetsnaz was precisely the cobra helicopter which at that time had a unique targeting system and guided missiles.
The attack on the American base lasted about 25 minutes as a result of which the Russian spetsnaz managed to hijack one cobra helicopter and transport it to Vietnam and destroy the rest.
The casualties among the personnel of the American soldiers amounted to twenty people. The Russian spetsnaz lost two men.
Later the Russians dismantled the cobra helicopter for parts and sent it to the Soviet Union.
A year later an improved guidance system for the Mi-24 helicopter was created in the USSR. Thanks to that the legendary Mi-24 helicopter became one of the best in the world.
Moreover, Russian engineers also improved portable anti-aircraft missile systems, strela-2 and created the strela-2m. The fact that this operation was carried out by the special forces of the Soviet Union, and the CIA they learned only a few years later as a result of an internal leak from the KGB.
At the same time, some people in the United States consider the operation of the Russian spetsnaz Vietnamese throw a hoax and don't recognize the loss of the US helicopter.
However, there are also people in the United States who admit that the Russians managed to hijack the American helicopter from the secret CIA base. According to some experts, if the US will officially admit that Russian spetsnaz managed to hijack the helicopter from the American base , it will cause indelible damage to the prestige of the United States.
Content created and supplied by: Ledward (via Opera News )