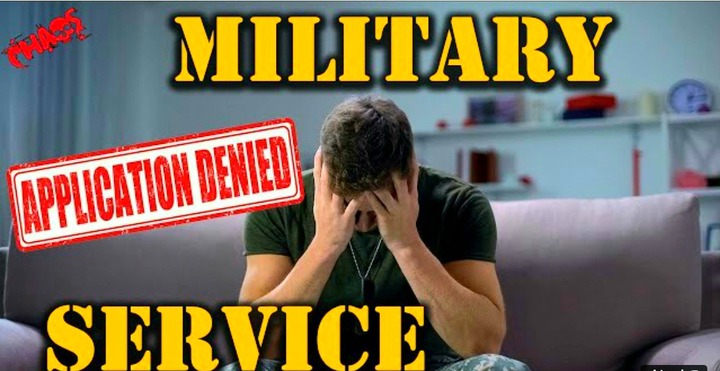 Due to lots of questions from my brothers and sisters out there, today have prepared this article for you,these are the main possible things,that will disqualify one from joining the Army or any other military service like ,Navy and Air force.
1.☆ Age,
The military creates chances for youths with a certain age bracket (18-26), if you're beyond the age limit,the military will not give any open chance to you,..in other case Age is different for those who who resigned from the military earlier.
2.☆ Education
Here you must attain the complete Secondary school level, Certificates are key during a recruitment process,..if you dropped at a form two class,a class eight Certificate can't win you a job. The form four Certificate and above (College courses) are only required.
3.☆ Citizenship
To be recognised as a citizen you must be/have;
○National Identity Card (ID)
○By Birth,...if you have a dual citizenship you won't be selected, the military is for the country not countries. ID is a must have, no passport cards granted.
4.☆ Good Conduct
To be selected as a recruit/Cadet, your Curriculum Vitae(CV) must be clean, if you have any criminal records or any federal policy investigations on you, you won't be selected.
5.☆ Over/ Under (weight and Height)
Overweight or underweight will disqualify you the military selection,mostly girls should weigh 54.0 and boys 64.0 if you weigh around 80kg that's a fail. Same applies to the height, everytime in the selection there must be a given height one must attain.
6.☆ Tattoos
To join military, your skin must be free from any colour that might create attraction as a tattoo, if you're already in the Army you can have as many tattoos as you wish, It creates a lot of unnecessary attention not recommended by the military.
7.☆ Medical
If you're asthmatic you can't pass a military recruitment, asthmatic needs a lot of attention, while in training if not handled carefully it can cause a life.
Earing ability must be examined, to ensure the recruit will ear and take order as per the instructions.
Visual Ability is also key, for Combat and weapon training Visual must be good.
The above are the major disqualifications, minors are as;
○Skin rushes
○Urinary transmitted infections(UTI)
○Body Deformation
○If you have Ringworms
○Hiv/Aids tests positive
○Tooth problems.
Thanks for reading, please!like,share,comment and follow for more articles. All the best!
Content created and supplied by: Kris254 (via Opera News )