Rosemary is a herb commonly used in dishes such as potatoes, cakes and meat. This because of its scent and many health benefits. It possesses aromatherapy properties, anti-cancer, anti-inflammatory and antioxidant properties.
Researchers have found that the scent of the plant helps to improve cognitive. Sniffing rosemary can improve memory by 75%. A substance produced in the leaves, called carnosic acid, protects the brain from free radical damage. Other compounds in the herb helps promote healthy blood flow to brain tissue and have a stimulating effect on the mind. Thus, For one get its benefits, should sniff fresh rosemary, taking in the aroma it will improve the memory and helps prevent Alzheimer's disease.
It is a great source of natural antioxidant- compounds that helps to neutralise free radicals from the body cells, thus prevent cancer and age related skin damage.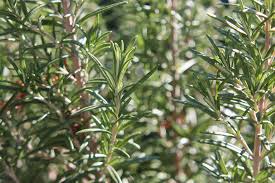 It is rich in carnosol (anti-cancer and anti-inflammatory agents and rich source of Vitamin E (powerful antioxidant.
It helps to relieve heart, liver and gallbladder pains.
When grown within the homestead it helps to keep away mosquitoes, as the scent acts as a mosquito repellent.
It can be mixed with lemon and placed in a container to be used as a natural air freshener within the house, thus reducing the cost of buying chemically made products.
Content created and supplied by: Eddahnyams (via Opera News )