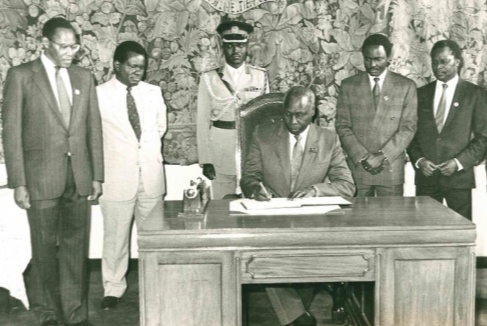 Sometime in the early 1980s an incident in Limuru caught the attention of President Daniel arap Moi.
A farmer had blocked a road leading to a school prompting protests by residents. Apparently the president got wind of this over the radio and inquired about the matter from the provincial administration.
David Musila, then Central Provincial Commissioner (PC), instructed Kiambu District Commissioner Yusuf Haji to go check out the incident.
"President Moi later called me to find out the progress. He was furious that I did not go myself. Well, I thought it was a small matter, but it was not to him," Musila recalls.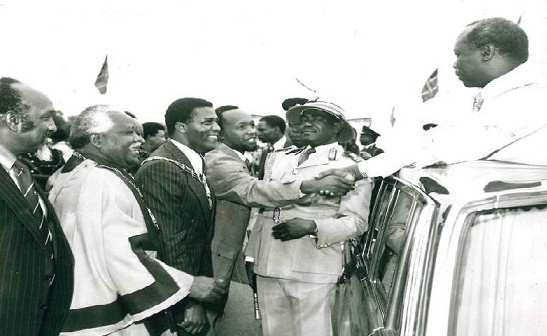 That Musila remembers the name of the farmer, Eliud Kihara, more than three decades later, underscores the seriousness with which his boss regarded the matter.
"Moi was not amused and he firmly stated it was not a small matter. This demonstrated his commitment to get things done. He was strict if you did not do things a certain way," he says.
Musila had to drive some 160km from Nyeri to Limuru to have the matter sorted.
Local issues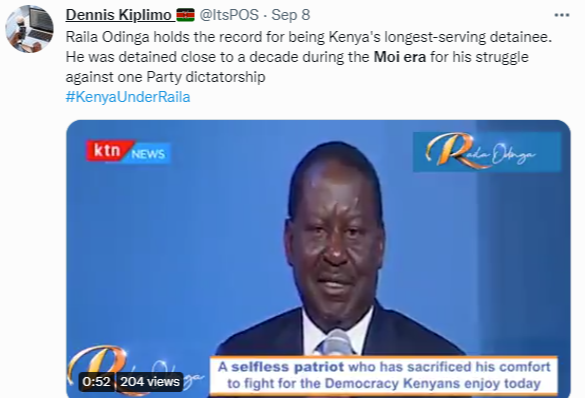 "No matter how local an issue seemed, Moi wanted a brief about it. He wanted to stay informed and knew people all over the country. You would be surprised, during a visit to your region, when he called out some people by their names, individuals you did not know yet you were the PC," Musila explains.
These are among the attributes that would define the presidency of Moi, who assumed office in August 1978 following the death of founding father Jomo Kenyatta.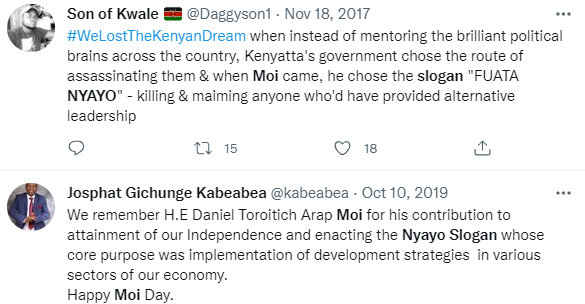 From Kenyatta's political slogan "Harambee", President Moi coined "Nyayo" that loosely translated to "following in the footsteps." It denoted he would stay the course charted by the first president while still expecting nothing short of total loyalty from all and sundry.
According to Musila, Moi oversaw an efficient provincial administration that ran down to the grassroots with the attendant intelligence gathering machinery that formed a key pillar in his 24-year rule.
The ruling party, the Kenya African National Union (Kanu), which spread its tentacles across the country, and whose members in the late 1980s would have powers to police public places and smoke out troublemakers, formed another pillar.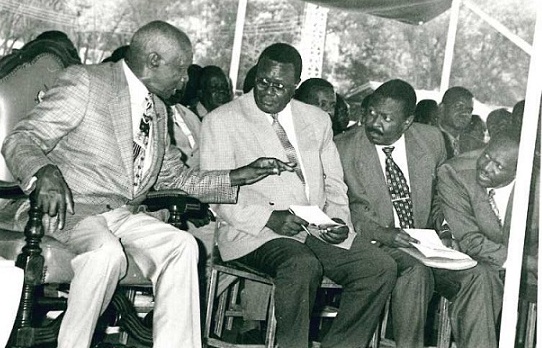 Grown-up men would shed tears when they were hauled before the party's disciplinary committee that had sweeping discretionary powers. It was dissolved hardly a year after it was formed.
Musila concedes that during the single party era, it was impossible to draw a line between the operations of the provincial administration and Kanu.
"Given a chance to decide which political party I would join today, I would go back to Kanu. Thanks to Moi, it was well organised right from the grassroots level compared to today's political parties," says former Labour Minister Philip Masinde.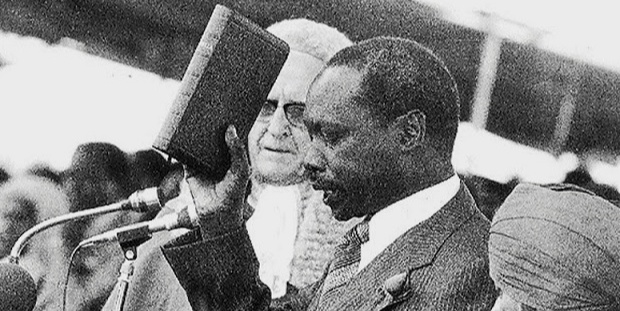 In his first years in power, Moi cut the image of a populist leader with pronouncements that resonated with the ordinary mwananchi.
"Moi spent a lot of time especially in Central Kenya where he faced opposition from some leaders, conducting harambees that made him popular very quickly. The strategy of being close to people worked very well. People realised he was not a passing cloud," Musila recalls.
A passing cloud was a phrase linked to Moi's critics who thought he would not last long in power. He went on to last for 24 years.
"He endeared himself to people through development projects. He build schools, and Nyayo wards in hospitals. He did not like lazy people," says Musila.
Even those that Moi later detained admit that his charm offensive in the early years of his presidency worked well for him.
"I found him quite likeable. When we started off, we were friends. We were on the same side," says former MP Koigi wa Wamwere, who was among detainees Moi ordered released in December 1978.
Initially, the two hit it off well, united in their dislike for some power brokers in former President Kenyatta's government, including the change-the-constitution brigade that unsuccessfully attempted to block Moi's ascension to power.
In the 1979 elections, Koigi defeated outspoken Kihika Kimani, a proponent of the change the constitution group, for the Nakuru North parliamentary seat.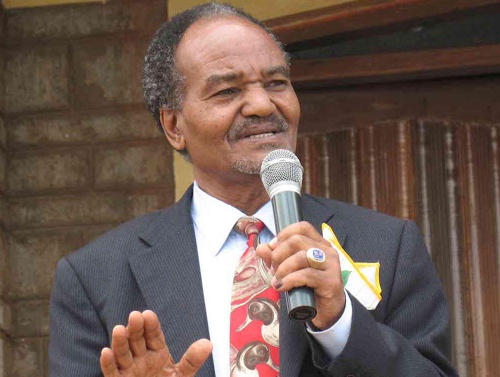 "After elections, G.G. Kariuki, one of Moi's closest allies in the early years of his administration, called me to his house and told me Moi had asked him to inquire from me if I wanted to join government," Koigi recalls.
Though he did not join government, Koigi went about his backbench duties with delight, buoyed by a president who had struck a cord with the public. One thing that struck the MP was the president's displeasure with the spiraling prices of land.
"Taking the cue, I drafted a Parliamentary motion asking the Government to bring down the price of land to Sh500 per acre," Koigi recalls.
The motion was defeated on the floor of the House.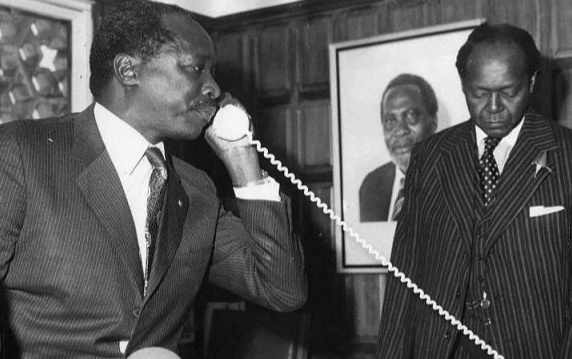 Breakfast at Kabarak
Moi would later host Koigi and his wife for breakfast at his Kabarak home where he advised him that politics was a delicate field and explained the dangers of pursuing land redistribution policies. 
For Koigi, it was a lesson on the former President's shrewdness something that Musila had already learnt.
"He was a shrewd politician," recounts Musila. He cites an incident in the early 1980s when fierce rivalry between two Kanu factions allied to James Njiru and former Mau Mau General Kassam Njogu in Gichugu had caused concern in the Kirinyaga District Security Committee.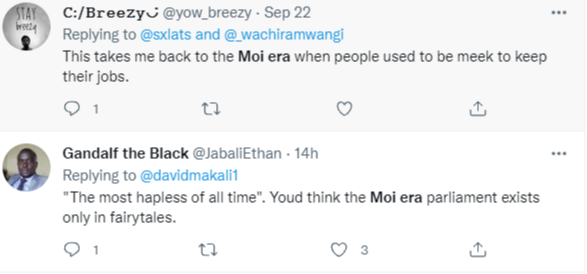 "I ordered the closure of both factions' Kanu offices," the then PC recollected.
Later, Moi would question him about the decision at State House, Nairobi.
"If we let these two offices run there will be chaos," Musila explained to Moi. To which Moi said: "I will do my politics and you will take care of the security."
Unbeknown to Musila, Moi had no qualms about competing factions-they checked the ambitions of those who might have been tempted to take an ego trip.
Koigi knew this only too well. According to the former MP, Moi would make calculated decisions that confounded friends and foe alike. The former President would rarely show his hand.
Koigi recounts how GG Kariuki and Charles Njonjo were pitted against Moi's Vice President Mwai Kibaki. Once, he says, he was summoned to State House, Nairobi, where he found Moi with Charles Nyachae and Jeremiah Kiereini. Both served as heads of the Civil Service under Moi. 
"The president had newspaper cuttings of reports about my statements condemning the state of the economy," Koigi says. "I was egged on. It later dawned on me that I was actually discrediting Kibaki who was then the finance minister," he says.
Koigi went on: "Later in the afternoon in Parliament I told Kibaki that he was being fought, but he could not believe it. He told me he had just come from State House and Moi had not told him anything."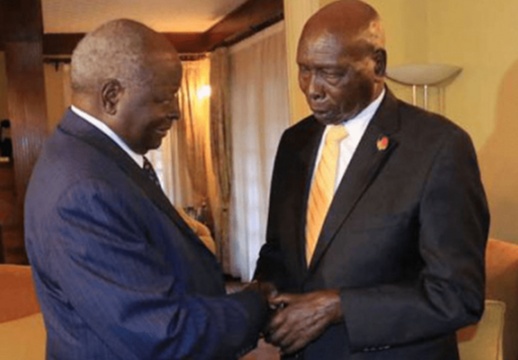 Kibaki had been appointed Vice President in 1978 and served as Minister for Finance and Economic Planning until 1983 when he was moved to the Ministry of Home Affairs and National Heritage.
Moi also asked Koigi what people were saying about Njonjo. "When I told him that he was regarded as one of the most powerful persons on the land, Moi laughed so loudly that we were amused," he recounts.
For Musila being PC during Moi's time was a delicate balancing act.
"I worked hard to balance the interests of the two competing groups," Musila recalls of factional feuds stoked by Moi allies who accused Kibaki of trying to outshine the master and egged him out.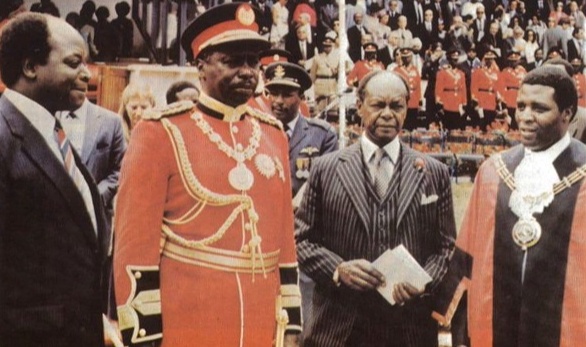 Njonjo, too, would be ousted from Government and Kanu in 1983 following the traitor saga.
Earlier, following the 1982 attempted coup, Koigi had also fallen out with Moi and been detained at Manyani.
"I recalled while in Manyani the question Moi had asked me about Njonjo and concluded by then he had set him up. The fact that Njonjo had fallen reminded me that Moi had a Machiavellian approach," he says.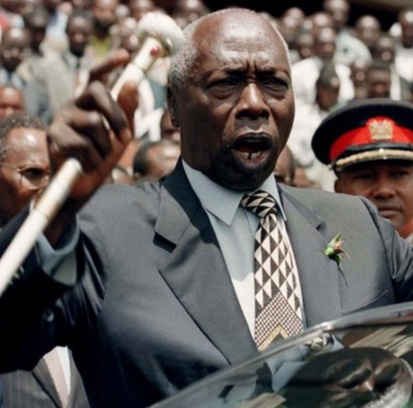 Koigi says he should have seen his detention coming because Moi had cautioned him on several occasions that he was trending on dangerous grounds. But he is convinced that the attempted 1982 coup prompted Moi to tighten his grip on power.
1982 COUP
Two days to the coup, on Friday July 30, 1982, Moi had officially opened the Nyeri Agriculture Society of Kenya (ASK) show. Earlier in the day, PC Musila had accompanied the President from State House, Nairobi to Nyeri.
"He had told me he would be coming to Sagana State Lodge, but later told me he would not stay. We had lunch at my house then around 4pm and drove to Nakuru. Over dinner he told us: 'you people must look after this country and not allow it to go to the dogs," he says.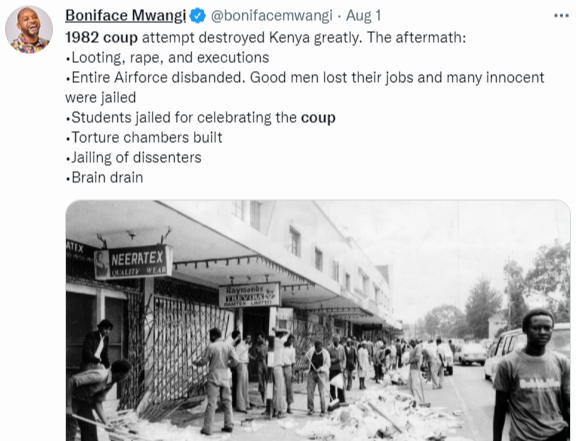 The PC would get wind of the coup attempt the following day from intelligence reports. It then dawned on him that Moi knew what was afoot.
"I recalled him putting off his stay at Sagana Lodge and wanting to drive to Nakuru. It was clear that he knew about what was happening, but maintained a fearless posture which I found amazing," Musila recounts.
Former Cabinet minister Burudi Nabwera says Moi would only change a decision depending on the intelligence he received,
"Once he had made a decision, he stuck to it," recounts Nabwera.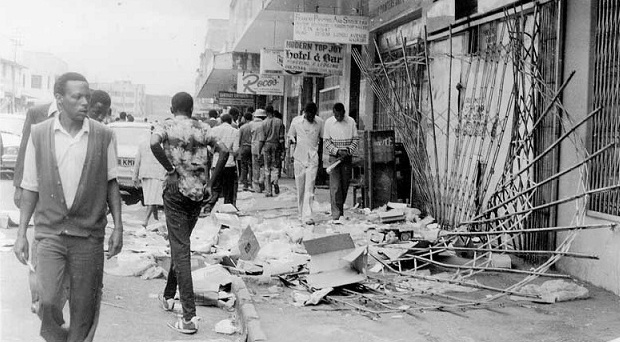 Musila noted one thing about his boss: once Moi fell out with you, he shut the door on you.
"Once we had lunch with him and GG who it would be announced later had been sacked. The beauty, however, was he had no permanent enemies," he says.
Being seen with Moi also opened doors for many people, and leaders would scramble to be seen by his every Sunday.
"You had to find out by yourself where he would be. You had to stay late in the night at Midlands Hotel in Nakuru where his bodyguards slept at the weekend to know which church he would be going to on Sunday," says Koigi.
Content created and supplied by: Jeropkibe (via Opera News )
Opera News is a free to use platform and the views and opinions expressed herein are solely those of the author and do not represent, reflect or express the views of Opera News. Any/all written content and images displayed are provided by the blogger/author, appear herein as submitted by the blogger/author and are unedited by Opera News. Opera News does not consent to nor does it condone the posting of any content that violates the rights (including the copyrights) of any third party, nor content that may malign, inter alia, any religion, ethnic group, organization, gender, company, or individual. Opera News furthermore does not condone the use of our platform for the purposes encouraging/endorsing hate speech, violation of human rights and/or utterances of a defamatory nature. If the content contained herein violates any of your rights, including those of copyright, and/or violates any the above mentioned factors, you are requested to immediately notify us using via the following email address operanews-external(at)opera.com and/or report the article using the available reporting functionality built into our Platform See More