The council of presidential candidates in somalia has written a letter send it to all media house .The letter contains a massage that there will be a massive demonstration in mogadishu tommorow Friday 19, 2021.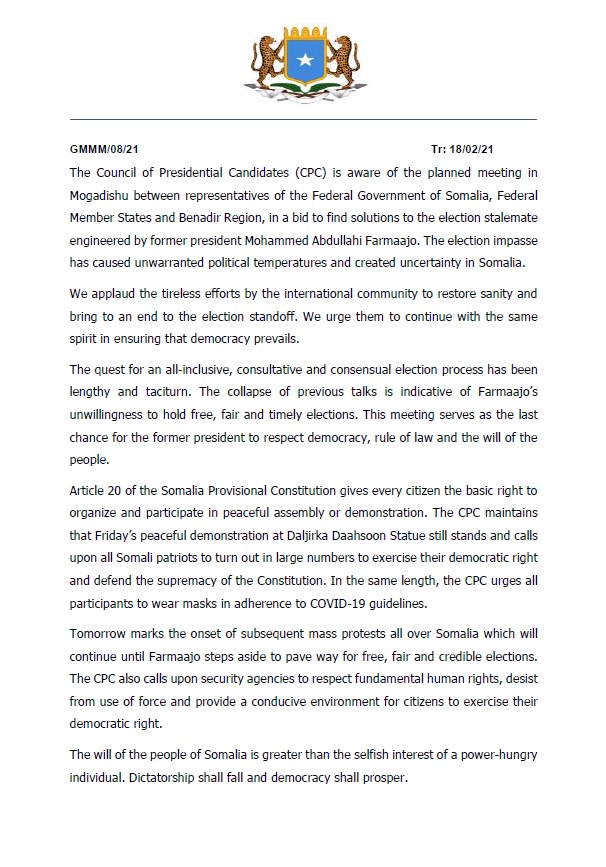 In the letter the council thanks all international community for the support to maintain peace in the country .They request all patriots to join the protest to dethrone the embattled president Mohammed Abdullah Farmaajo .
The CPC is doing all this demanding for free fair and timely general election.This demonstration is met to force the president to respect democracy ,rule of law and the will of the people.
The article 20 of somalia provision constitution gives every citizen the basic right to organise and participate in peaceful assembly or demostation.
The council therefore maintain that on Friday peaceful demostation in mogadishu still stands and call up on somalian patriots to turn out in big number for to practice their democratic rights and supremacy of the constitution. All protesters are expected to wear mask according to Covid 19 guidelines.
Tommorow mark the onset of subsequent mass protests which wi continue until the current president step aside to pave a way for fair and democratic election.
The council also call up on the security agencies to respect fundemental human right , desist from use of force and give conducive environment to exercise their constitutional rights.
Content created and supplied by: Sirwilliebinchokera (via Opera News )