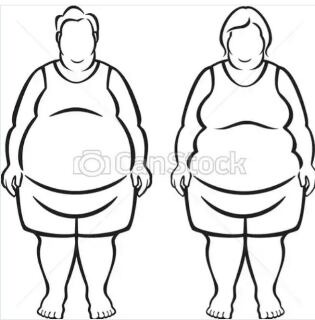 Obesity is a disease involving an excessive accumulation of fat in one's body.In Kenya,approximately 32.2%of women are affected by obesity as compared to approximately 5.6% in men.
Causes.
Obesity is mainly caused by the accumulation of calories which can not be burnt in our daily activities or during exercise. These calories are later stored in form of fats in our bodies.
Risk factors.
Unhealthy lifestyle.
This is taking food with a lot of calories such as fast foods,beverages and soft drinks and oversized portions of food without a corresponding exercise to burn them out and lack of fruits and vegetables in meals.
Certain diseases and medication.
Some diseases such as arthritis decreases the activities of a person,leading to accumulation of calories.some medications may also deter one from exercises which are necessary in burning excess fat in the body.
Age.
As one's age increases,there is a tendency of becoming more inactive with a corresponding hormonal change.Old people are likely to accumulate more fat as compared to young people because most of them become inactive as age increases,making it impossible to burn excess calories in their bodies.
Pregnancy.
Women gain weight while pregnant.While some might manage it after giving birth,others may find it difficult to lose the excess fat.This is Women are however advised to breastfeed as this is the easiest way to loose weight.
Gender.
Women are more likely to be obese.According to statistics, women are five times more likely to be affected by obesity as compared to men.
Content created and supplied by: Bironga (via Opera News )