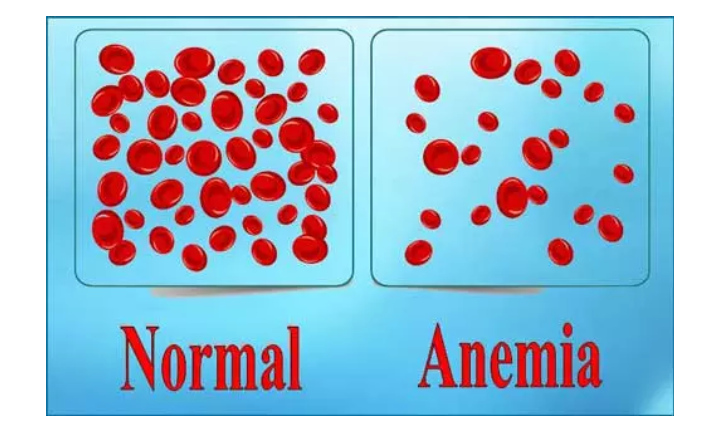 Anaemia describes the condition in which the number of red blood cells blood cells or haemoglobin in the blood is low.Doctors sometimes describes it as having low blood count,howhever there are the maiun causes.The main causes of anaemia are;
1.BLOOD LOSS
This is the most common cause of anaemia especially iron-defficiency anaemia.Blood loss can be short term or persist overtime.Heavy menstrual periods or bleeding in the digestive or urinary tract.Surgery,trauma,or cancer can cause blood loss.If a lot of blood is lost,the body may lose enough red blood cells to cause anaemia.
2 Lack of red blood cells production
Both acquired and inherited conditions and factors can prevent your body from making enough red blood cells.Acquired means you are not born with the condition,but youdevelop it.Inherited means your parents passed the gene for the condition on to you.Acquired conditions and factors that can lead to anaemia include poor diet ,abnormal hormone levels,sanaemia
onic(ongoing) diseases,and pregnancy.
3 Diet
A diet that lacks iron,folic acid(folate),or vitamin B12 can prevent your body from making enough red blood cells.Your body also needs small amount of vitamin C,riboflavin and copper to your body to absorb nutrients also can prevent your body from making enough red blood cells.
4HORMONES
Your body needs the hormone erythropoietin(eh-rith-ro-POY-eh-tin)to make red blood cells.This hormoneimu stimulates the bone marrow to make these cells.A low level of this hormone can lead to anaemia.
5 Diseases and Disease treatments
Chronic diseases, like kidney disease and cancer,can make it hard for your body to make enough red blood cells.Some cancer treatments may damage bone marrow or damage the red blood cells ability to carry oxygen.If the bone marrow is damaged,it can not make red blood cells fast enough to replace the ones that die or are destroyed.People who have HIV/AIDS may develop anaemia due to infections or medicines used to treat their diseases.
6 Pregnancy 
Anaemia can occur during pregnancy due to low levels of iron and folic acid and changes in the blood.During the first 6 months of pregnancy the fluid portion of a woman blood(plasma)increases faster than the number of red blood cells.This dillutes the blood and can lead to anaemia.
7 Aplastic Anemia 
Some infants are born without the ability to make enough red blood cells.This conditon is called aplastic anemia.Infants and children who have aplastic anemia often need blood transfusions to increase the number of red blood cells in their blood .Acquired conditions or factors, such as certain medicines,toxins,and infectious diseases,also can cause aplastic anaemia.
8 High rates of red blood cell destruction 
Both acquired and inherited conditions and factors can cause your body to destroy too many red blood cells.One of an acquired conditions is an enlarge or diseased spleen.The spleen is an organ that remove wornout red blood cells from the body.If the spleen is enlarged or diseased,it may remove more red blood cells than normal,causing anaemiaanaemia
Types of anaemia
1 Iron deficiency anemia- usually occur due to chronic blood loss caused by excessive menstruation or increase in demands for iron such as during fetal growth in pregnancy.
2 Aplastic anemia- blood disorder in which the body's bone marrow does not make enough new blood cell.This may result in a number of health problems like enlarge heart or heat failure
3Hemolytic anemia- condition in which red blood cells are destroyed and remove from the blood stream before their normal lifespan is up.
4Thalassemia- are inherited blood disorders in which cause the body to make fewer healthy red blood cells and less haemoglobin .Alpha and beta thesalamia are the types.si
4 sickle cell anaemia-seriuos disease in which the body makes sickle shaped red blood cells
5 Pernicious anaemia -condition in which the body can not make enough healthy red blood cells because it does not have enough vitamin B12.People with this disease cannot absorb enough vitamin B12 due to lack of intrinsic factor.
6 Fanconi Anaemia-An inherited disorder that leads to bone marrow failure.It is a type of plastic anemia that prevents your bone marrow from making enough new red blood cells for your body to work normally.
Symptoms 
fatigue,weakness ,shortness of breath,looking pale,decresed energy,palpitations,lighy headedness.
symptom of severe anemia
 Chest pain,heart attack,dizinnes ,rapid heart rate,fainting or passing out.
Some symptoms that may indicate anemia in an individual
1.A yellow skin usually called jaundice.
2.An enlargement of the spleen with certain causes of anaemia.
3.A pale or cold skin
4.Change in stool colour eg black and tarry stools .
Treatment
Treatment entails treating the condition of low haemoglobin and red blood cells as well detecting and treating the disease process that has led to the anaemia .Unless underlying cause of anaemia which may be continous blood loss ,homolytic anaemia ,iron deficiency or increase demand state like pregnancy are assed and managed.
1 Iron deficiency involve taking iron supplements and making changes to your diet.If the underlying cause of iron deficiency is loss of blood other than from menstruation the source of bleeding should be located and stopped and this may involve surgery.
2 vitamin deficiency -involve treatment for folic acid and vitamin B12 deficiency involves dietary supplements and increasing these nutrient in your diet.If your digestive system has a trouble absorbing vitamin B12 from the food you may receive the shots everyday.Eventually you will need the shots fast once a month which may help stimulate red blood cells production and ease fatigue.
3.Hemolytic anaemia-Avoiding suspect medication treating related infection and taking drugs that supresses your immune system,which may be attacking your red blood cells.Depending on the severity of your anaemia ,ablood transfusion or plasmaphoresis may be necessary.
4.No specific treatments for anaemia of chronic disease.Doctors focus on treating the underlying disease if the symptoms become severe ,blood transfusion or injections of synthetic erythropoietin a hormone normally produced by your kidneys may help stimulate red blood cells production and ease fatique.
5.Plastic blood transfusions to boost levels of red blood cells.
6 Anaemia associated with bone marrow disease - treatment of various disease can include medication and chemotherapy.
Prevention
1 Eat a diet rich in iron.
2 Cook using iron pots and pans
3 Take vitamin B12 and folate supplements
4 Consume food containing vitamin B12.
Anaemia diet
Anaemia is caused by low level s of haemoglobin in the blood which is in turn caused by low level of iron or vitamin B12 in the body.Refined foods such as white bread,sugar and desert can determine the body of iron unless iron rich food should be included in the diet.Apart from being rich in iron it should also be balanced and nutritious one.The diet should emphasize on raw fruits and vegetables that are rich in iron that will also supply the body with other essential vitamins and minerals.
Diet chart
The first five days of special, anaemic patients should be devoted exclusively to fresh fruits .During this period three meals should consist of fresh fruits taken at five hourly intervals .Thereafter a diet of fresh fruits and milk should Be followed for the next days.The only difference during this period is the addition of milk to each meal of fruit starting with 2 points of milk everyday and moving up to four or five pints everyday in a half pints increases .Thereafter a well balanced diet consisting of fruits,vegetables,whole grains seed and nuts can be followed .
Food to include
Fruits,vegetables,herbs,seed,nuts and meat that are rich in iron ,vitamin B12 ,folic acid and Vitamin C
Fruits to be taken
Bananas,Apples,peas ,dark grave,apricots
Vegetables
Spinach ,green onion,squash,carrots,beetroot
others that are rich in iron like;
Whole wheat,brown rice,soyabeans,sun flower,beans
Food to avoid
Those that interefere with the absorption of iron ,or cause iron depletion .They include drinks such as coffee,and tea and foods such as bran,egg white,white Bread,sugar and desserts.
Drug instructions.Do not consume iron supplements along with calcium supplements and antibiotics.It can be consumed along with multivitamin such as vitamin B,C.It is good to consume iron tablets with fruit juices such as orange for better absorption.
Content created and supplied by: tonuicherurobert (via Opera News )