Author's brief opinion: It appears as if the country is not having its priorities right. Cancer is among the top five killer diseases in Kenya today but the government seem not to be doing enough to contain this situation that should rightly be declared a pandemic, with the poor at most risk as they can't even afford the costly treatment for this disease.
And now, The Standard reports of a painful and heartbreaking story of a Nairobi woman Juliet Mutuku who is living a painful life after being diagnosed with Cancer some few years ago.
The woman who hails from the Mukuru kwa Njenga slums recounts her painful battle with Cancer that has left her life turned upside down as she is unable to take care of her three children.
With the woman having no relative due to the fact that her mother died when she was in nursery School and ended up staying with her grandmother, her situation has become bad as the cancer continues to tear her down leaving her for the dead.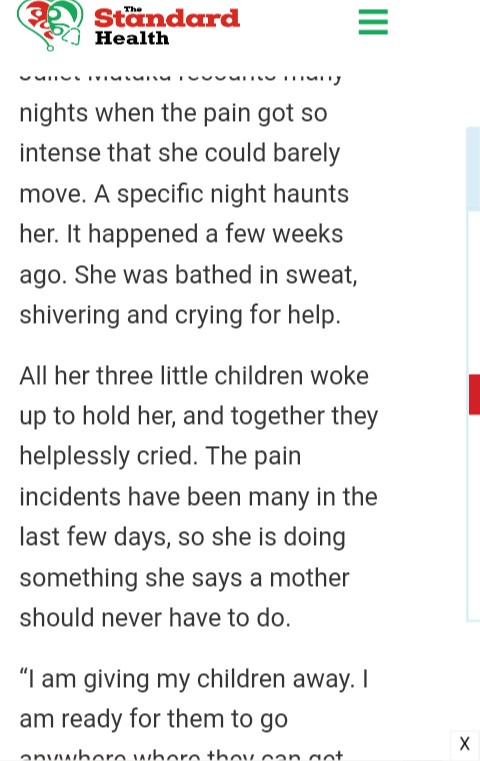 She recounts one sad night when she woke up in the middle of the night feeling so much pain with the pain getting so intense to a point that she was completely unable to move.
She was sweating profusely, shivering Helplessly and cried for help with nobody in sight responding to her tribulations. Movingly, all her three little children woke up to hold their mother tight.
They continued crying together helplessly as a family and this is the experience that has convinced the mother of three that it is time she gives her kids to a children's care centre, just in case she doesn't make it. If she wins the fight against cancer, she would come back for them.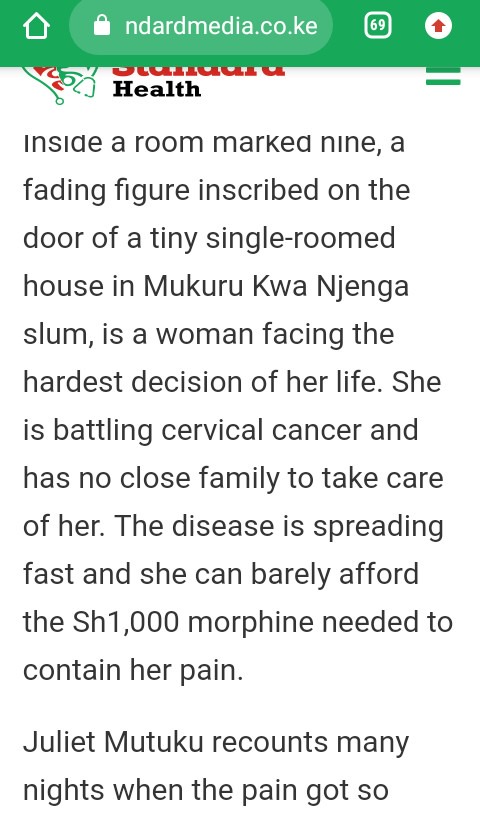 This is just a tip of the iceberg on what thousands of kenyans are undergoing through with cancer with the government appearing asleep!
Content created and supplied by: Mandera (via Opera News )