If you are one of the Thomases who doubt miraculous occurrences that have ever been reported around the globe, wait until you hear this one. Crying bloody tears may happen though it is a rare medical condition.
Referred to as haemolacria, crying bloody tears causes a person to produce tears tinged with, or partially made of blood.
Some of the causes of haemolacria include:
1) Menstruation and hormonal changes. The conjunctiva may periodically bleed (vicarious menstruation) during menstruation or hormonal disturbances.
2) inflammation of the eye. Severe conjunctivitis (reddening of the eye) including viral or bacterial conjunctivitis can cause blood-stained tears. Conjunctival ulcers (Ulcer of the eyes) may also cause haemolacria. 
3) Conjunctival injuries. eg during fatal accidents.
4) Trauma due to rupture of conjunctival vessels or surgery involving incision or excision of the conjunctiva may also cause haemolacria.
5) Blocked tear duct. As you age, the tiny openings that drain tears (puncta) may get narrower, causing blockage, Infection or inflammation. Much more, Chronic infection or inflammation of your eyes, tear drainage system or nose can cause your tear ducts to become blocked.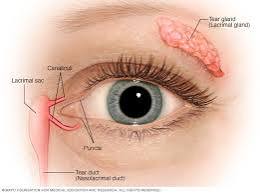 6) High blood pressure. Hypertension is an important factor that has been reported to cause epistaxis (nosebleed) and retrograde haemolacria through the leak of hemorrhage via the lacrimal puncta
7) Blood disorders, such as hemophilia (A disorder in which blood doesn't clot normally). When blood can't clot properly, excessive bleeding (external and internal) occurs after any eye injury or damage.
Treatment/ management of haemolacria.
The treatment of haemolacria depends on the cause. Close observation is needed when no apparent cause of haemolacria is detected to rule out malingering.
Lesson
When we are healthy, we should always thank the Almighty God for the blessing of life because nothing turns us into bitter, selfish, dissatisfied people more quickly than an ungrateful heart. And nothing will do more to restore contentment and the joy of our salvation than a true spirit of thankfulness. Thanks for your Patience and learning. Be blessed.
Content created and supplied by: Mrblogger (via Opera News )