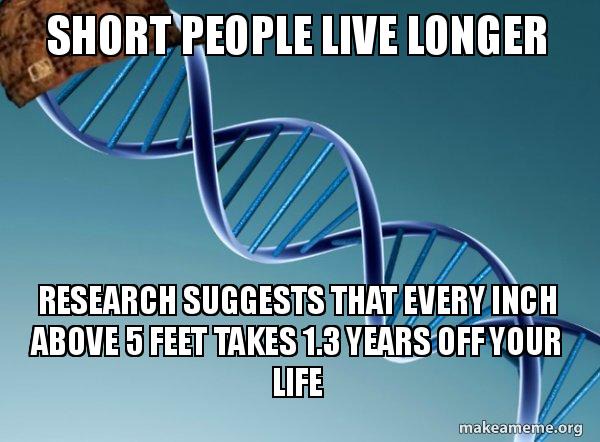 Studies have provided a green light on the Mortality and health of short and tall people.Several Researchers have found a greater difference between height and Longevity based on relatively Homogeneous deceased population samples.
Moreover, according to researchers Short people carry a gene that protects them from the effects of ageing, scientists have revealed.
The finding suggests that Short and small bodied people have lower death rate and fewer diet-related chronic diseases such as Obesity, Diabetes, Cardiovascular diseases, Cancer, Dental Diseases and Osteoporosis especially with past middle age . Shorter people appear to have longer average lifespan.
Animals experiment also showed that small animals within the same species generally live long.The relation between height and health has become more important because rapid development is genetic engineering will offer parents opportunity to reduce the height of their children in the near future.

Therefore Short people have a greater advantage than tall people.
Follow ,share, comment
Content created and supplied by: Vikiru-Junior (via Opera News )