1) Transparent color
According to experts, transparent color of your urine may indicate you are over hydrated. Over dehydration can dilute essential salts and nutrients in the body causing chemical imbalance in your blood. If your urine color is transparent, it means you are drinking enough water and your body is hydrated.  
2) Pale color - Pale urine color indicates you are hydrated and free from any infections. It also means your bladder us healthy and you are drinking enough water. 
3) Yellow - If your urine color is yellow, it means you are normal and your urinary system is functioning well.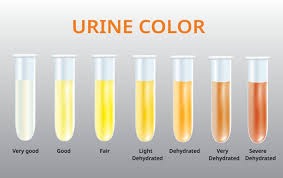 4) Dark Yellow - This color could indicate you're either hydrated or dehydrated. If the color is light yellow, you are hydrated and, if the color is dark yellow, you might be dehydrated or suffering from bladder infections. The darker the urine is, the less dehydrated your body is.
5) Amber - Medics reveal that if your urine is amber, you might be dehydrated. Start drinking water if you notice slight change in your urine color. 
6) Red color - Red color in the urine could indicate you have infections in the body. It can signal you might have kidney stones, prostrate problems, and urinary tract infection. Seek medical advice immediately you notice this sign.
Share the article.
Content created and supplied by: Trendiest_254 (via Opera News )