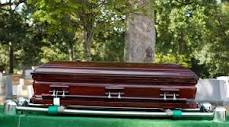 For some years since you are born I know there is this fact of standard grave depth which has been ringing in your mind. Who came up with the idea of grave depth to be 6 feet? Don't worry because this article will explain how it started and reasons behind this standard depth.
The origin of six feet under the ground.
It started at 1965 as a plague in England. There was an outbreak in london and the disease swept so many people and for that reason the mayor of London laid down stipulated laws on how to bury the dead bodies inorder to avoid further infections. Among his specification, he made orders that all graves to be dug 6 feet deep. The law eventually fell out in favour of england and it's colonies. That's how six feet down the soil started and upto date many people have taken it as a crucial part of law. In some areas in America this depth rule doesn't apply. Some are just buried 4 feet down but a 18 inches of top should be maintained on top of the casket.
The standards of six feet down provides a measure of safety and comfort. The standards tries to protect the skeleton from surfacing due to soil erosion. This can make people more scared and exposed to some disease. The minimum standard depth of six feet tries to keep dead body down where it belongs.
Content created and supplied by: djflykicks (via Opera News )