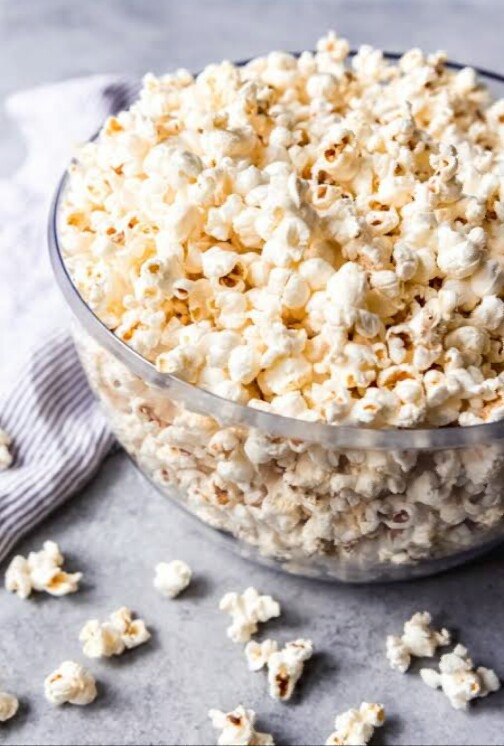 Popcorn is one of the heathiest an most popular snack in the world. It contains nutrients and a lot of health benefits, however it is sometimes prepared with a lot of fat, salt and sugar. Its therefore important to prepare your popcorn in the right way.
It healthy or unhealthy depending on the way you've prepared it. This article seeks to educate you on the nutrition facts , and health benefits of popcorn, Please read and share.
Nutrition Facts.
Popcorn is a whole grain food, this is a fact that most people will not be quick to recognize. It is rich in nutrients. Many studies attach whole grain consumption to benefits such as reduced inflammation and decreased chances of experiencing heart disease.
Per each serving of a 100 grams of popcorn you get:
Vitamin B1 (Thiamin): 7% of the RDI.
Vitamin B3 (Niacin): 12% of the RDI.
Vitamin B6 (Pyridoxine): 8% of the RDI.
Iron: 18% of the RDI.
Magnesium: 36% of the RDI.
Phosphorus: 36% of the RDI.
Potassium: 9% of the RDI.
Zinc: 21% of the RDI.
Copper: 13% of the RDI.
Manganese: 56% of the RDI
All of this adds up to 387 calories, 13 grams of proteins, 78 grams of carbohydrates and 5 grams of fat. Also it one of the world's largest source of fibre since it supplies 15 grams of fibre.
It's high in polhphenal antioxidants.
These antioxidants help protect your cells from damage by free radicals. Polyphenals have a number of health benefits which include: improved digestive health, improved circulation of blood and a reduction in the chances of contracting cancer such as breast and prostate cancer.
Extremely high in fiber.
According to conducted research. Dietary fiber reduces the risk of many diseases such as obesity, heart diset and type 2 diabetes.
The recommended intake for fiber for men is 38 grams and 25 grams for women. However, many people eat less than that.
Eating popcorn may help with weight loss.
Popcorn is high in fiber, low in calorie content and low in energy density of which all of these are elements of good weight loss.
Air poped popcorns contain 31 calories per cup which is lesser when you compare with other snacks.
Eating popcorns helps you eat lesser calories and thus loose weight. It however should be eaten in moderation as much as it's more filling than other snacks. It can also be fattening if eaten too much.
How to prepare healthy popcorn.
Ingredients
3 tablespoons olive oil or coconut oil.
1/2 cup popcorn kernels.
1/2 teaspoon salt.
Directions
Place oil and kernels into a large pot and cover it.
Cook over medium-high heat for about 3 minutes or until the popping almost stops.
Remove from heat and pour into a serving bowl.
Season with salt.
Content created and supplied by: Northrifter (via Opera News )