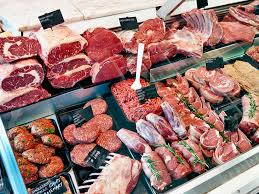 Studies demonstrates that in eating animals products (meat, eggs, dairy) could promote cancer growth and even cause it. According to scientific studies the International Agency For Research Cancer (IARC) studies suggests that;
Processed meats are considered as group 1 carcinogens. This means it causes colorectal cancer and may cause stomach, gastric, bladder and esophageal cancers.
Red meats are classified as group 2A carcinogen. That means the current body of evidence shows could lead to colorectal, prostrate and pancreatic cancer. Meta analysis assessing associate meat with cancer.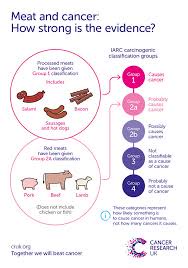 Ways Animals Products Contribute To Cancer Growth:
Saturated Fat: Studies shows a high diet in saturated fats (dairy, meat and eggs) that is animal protein could increase risk of lung and intestinal cancers. There is possibilities it can cause prostate cancer in men and breast cancer in females respectively. Saturated fats may be found in plant foods but not associated with cancer.
Methionine: Many human cancer cells are dependent on amino acids called methionine which is one of nine amino acids not made in the body. Vegetables, nuts and grains contains small amounts. Fruits have non. Beans contains more in plants. meats have twice more of this while chicken and fish have much up to seven times.
HCAs and PACs: These are cancer causing chemicals associated with cooked meats. Namely heterocyclic amines (HCAs) and polycyclic aromatic hydrocarbons (PAHs) which are mutagenic arising from cooked meats. They arise when meats are cooked at high temperatures.
Cholesterol: Dietary cholesterol has an association with risks of cancers. This is possible because metabolites of cholesterol support cancer progression and suppress immune responses. Studies shows manipulating cholesterol metabolism inhibits tumor growth. Cholesterol isn't found in plants food substances.
Neu5Gc: N-glycolylneuriminic acid (Neu5Gc) a unique sugar molecule in animal food and some dairy products increases tumor formation risks in man. Neu5Gc when identified in the body the immune treats it as foreign body and produces an antibody which increases inflammation that may result in inflammation diseases including cancer.
Heme Iron: This is highly absorbable form of iron in meat. Iron is good but in small proportions. Excesses could result in DNA damage could cause oxidation stresses and catalyze formation of cancer causing N-nitroso compounds. Excess iron accumulates in heart, pancreases and liver resulting in iron toxicity, Since the body hasn't a way of removing excess iron but through blood loss. Heme iron isn't found in plants. Plants foods have a safer iron.
In conclusion be wary in caution of taking animal products. This could act as precautionary way to prevent the risks.
Content created and supplied by: Olengo (via Opera News )