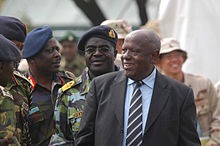 James Njenga Karume was a renowned Kenyan politician who served as the member of parliament for Kiambaa Constituency after clinching the highly coveted seat in three successive elections, 1979, 1983 and 1988.
He developed health complications from late November 2011. He had been airlifted to India to undergo chemotherapy treatment and returned to the country on the first day of January 2012 where he continued with hemotherapy at the eminent Aga Khan Hospital, strategically placed in the heart of Kenya's capital Nairobi.
His family was preparing to take him to Israel for further treatment but a couple of days to the journey, Karume developed an infection and was rushed to the Karen Hospital on the 17th day of February 2012 in poor health and as the week went by, his health condition worsened.
In the wee hours of the morning on 24 February 2012, Njenga Karume was pronounced dead due to a cardiac arrest. He died days after his close friend and political ally John Michuki.
Content created and supplied by: Timelynews.com (via Opera News )