As the country faces Covid-19 crisis, a Kenyan family is busy battling to raise funds for a one year old daughter. Baby Ayah was born on 15th of January, 2020 a healthy bouncing baby. She is a daughter of Mary Kathure Mithika and the father a Denmark national whose name isn't disclosed. Ayah was healthy until the 27th day of November 2020.
On this day Ayah was diagnosed with Spinal Muscular Atrophy type 2 (SMA). SMA is a rare neuromuscular disease that causes muscle loss. Children suffering from this disease untreated leads to an untimely death before there fourth birthday. If not treated urgently Ayah is possibly at risk of losing her ability to use her arms, legs, eating as well as breathing on her own. Luckily there is hope for the little baby as the disease can be treated. A gene therapy commonly known as Zolgensma has shown positive results in cases similar to SMA. unfortunately, Zolgensma is the most expensive drug in the world, costing 2.1 million US dollars equivalent to Ksh.240 million adding up to Ksh.270 million on full treatment.
Ayah has her daily struggles as well. She has to undergo Continuous Positive Airway Pressure (CPAP) twice daily, morning and evenings. She is also at risk of Respiratory syneytial virus (RSV), a virus that normal people can fight but can be fatal to those that are immunodeficient. She gets these shots monthly which prevents her from RSV and its infections. Cost of each shot is Ksh.180,000 luckily its covered by insurance. She also undergoes physiotherapy to slow down muscle atrophy.
SMA is one of the rare diseases among cystic fibrosis, all pediatrics cancers, Duchene muscular dystrophy, Huntington's disease, fragile x, Angelman syndrome, microcephaly, progeria etc. This diseases are commemorated on February 28th.
The family has put on posters on social media showing the ways of funding such as paybill and account number with tags #helpayah and #friendsoflittleayah. So far they have managed to raise 3.8 million which is 1.38% of the total cost. They can be reached on Instagram @little.ayah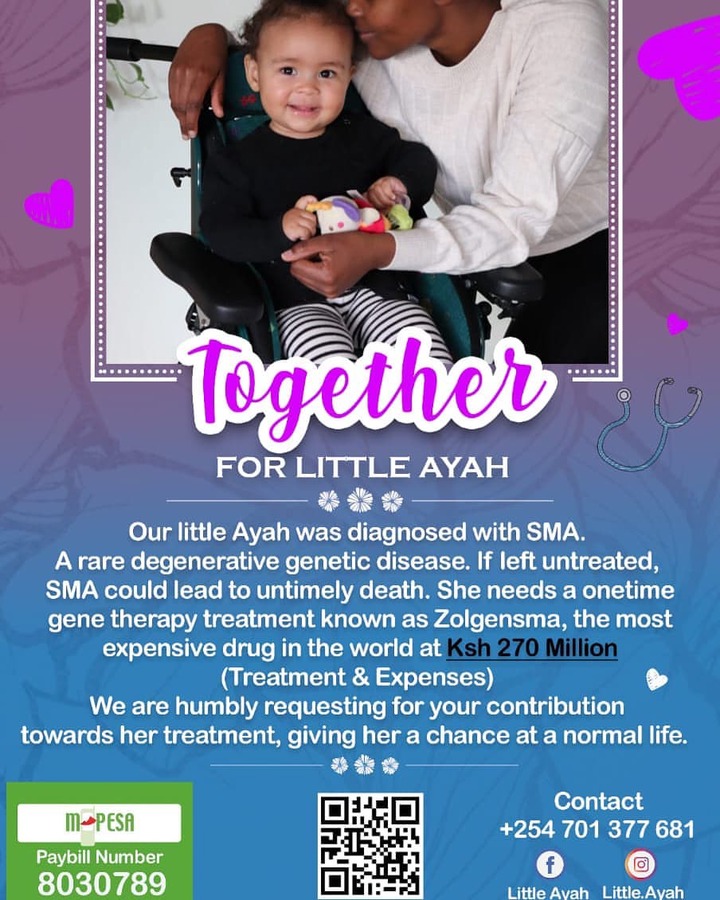 PAY BILL: 8030789 ACCT NAME : AYAH
Content created and supplied by: Me_to_the_World (via Opera News )