Exercises are very important in expectant women as they keep the body fit. Research indicate that Women who exercise regulary give birth to healthy baby and have shorter labour pains. However, when indulging in any exercise, consider the changes your body is undergoing. Here are five exercises you should avoid during pregancy.
1)Weight lifting 
Heavy weight lifting could injury in the stomach as-well-as miscarriage. If you have a miscarriage history, don't lift heavy weights or engage in strenuous work.
2) Stretching 
Stretching puts a strain in the abdomen and the backbone potentially harming the foetus. If you feel like stretching, join prenatal exercises classes prepared for pregnant women.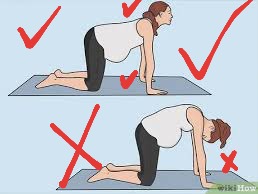 3) Sleeping on your stomach 
Lying on your stomach is uncomfortable position that could harm your baby. When sleeping, lie on your left or right side to protect the foetus.
4) Running
Women who exercises regularly can continue running while pregnant as the body is adapted. However, if you do not exercise, avoid running or jogging for long as this may harm the baby.
Please share the article and follow to read my next article.
Content created and supplied by: Tonie_art (via Opera News )