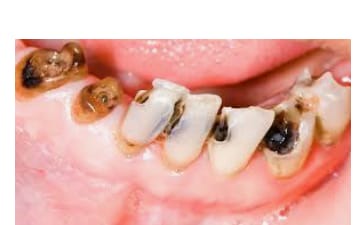 Tooth decay is become challenge to many people despite the keep there teeth's clean yet they maintain cleanness of their teeth that is brushing everyday even twice a day.
Tooth decay is a hole that forms in the teeth. It usually starts as a small hole which later gradually becomes bog when not treated. Tooth decay is not easily noticeable because they cause no pain at the beginning therefore advisable one to adapt to regular dental appointment which helps one to detect tooth decay at early stage.
       Symptoms of tooth decay.  
Symptoms of tooth depends on the severity of the decay. Some includes:
-Tooth pain.
-Tooth sensitivity.
-Visible hole in the teeth.
-Black staining in the teeth.
      Causes Of Tooth Decay.
Tooth decay are caused by plaque that sticks like a substance that binds in the teeth. The plaque is combination of:
-Saliva.
-Bacteria.
-Acid.
-Food particles.
Everyone has bacteria in the mouth that's why it's advisable to brush after every meal.
Everyone has risk of having tooth decay but some people have highest risk factor.
     Risk Factors.
-Too many sugary and acidic foods and drinks.
-Not getting enough fluoride.
-Dry mouth.
-Poor oral hygiene such as failing to brush teeth.
-Eating disorders.
-Acidic reflux diseases.
             Treatment options for tooth decay.
1)   Tooth filling.
Doctor uses drill and removes decayed material from the tooth and then fills your teeth with substance such as silver, gold or composite resign.
2) Early stage treatment.
If tooth decay is detected earlier fluoride treatment might restore your teeth therefore preventing further decay.
Complications from tooth Decay.
-Continuous pain in the tooth.
-Presence of pus around the infected area.
-Increases risk of breaking tooth.
-Difficulty in chewing food such as hard food.
     Preventive measures of Tooth decay.
1) Brush teeth at least once per day.
2) Avoid sugary and acidic foods.
3) Reduce snacking between meals.
4) Regular visit of dentist.
-foods that can help fight tooth decay: calcium rich foods fiber rich fruits and vegetables xylitol sugarless chewing gum water with fluoride
Content created and supplied by: Djrhodehtycoom (via Opera News )