Yesterday I went to bed early because I was so tired from the day's work. At 1 am I work up and felt the urge to pray.
I said my prayers, but when praying, there was nothing particular that come to my mind to pray about so I found my self just saying thank you God ,Thank you God, I went on thanking him praised and sang a worship song . That goes 'ni wewe ni wewe ni wewe, ni wewe Jehovah, Sina mwingine wa kutegemea ila ni wewe Jehovah', then I said Amen.
Shortly after that my phone rang, waaa my husband was calling. He stays at home and I live at my work place.
I received My phone and he said" praise God, why didn't you wake me up? Yet you knew I was monitoring the Cow. Yesterday I was so tired and I went to bed early, imagine I have just woken up. I went straight to the cow shade and found the cow in labour, already the calf's legs were protruding, I called my neighbour for assistance but their phones were off . I didn't have a scapel with me ,so rushed to the kitchen and picked a knife. I cut the threads from the stitches and the calf was delivered successful. Thank God."
I was so happy to hear what had happened actually it is a miracle, this cow has a problem, the last days to delivery her cervix is expelled out, so she has to be stitched and induced.
The vetenary doctor said 'her uterus muscles are weak to hold the pregnancy to term.
Therefore after stitching you need to be extra careful ,so that when she starts going into labour you cut the stitches, otherwise you can loss both the cow and the calf.'
This cow gives birth to strong calf and good amount of milk.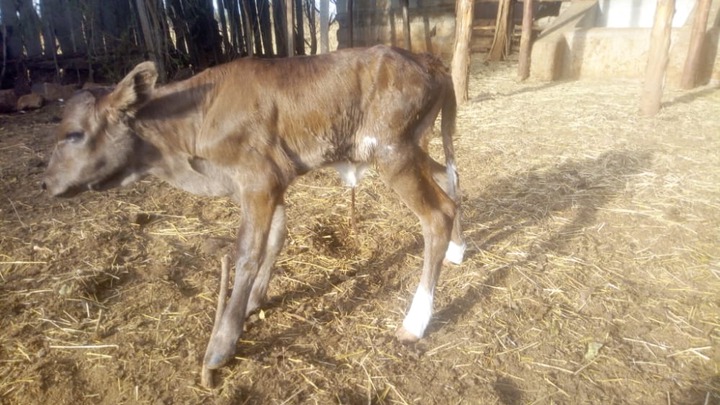 Photos of healthy calf and the cow
When you wake up at night and feel like praying please pray, God may be speaking to you to save a situation.
I thank God for the miracle he did for us. May his name be praised always , Amen.
Content created and supplied by: Mercychirchirjela (via Opera News )