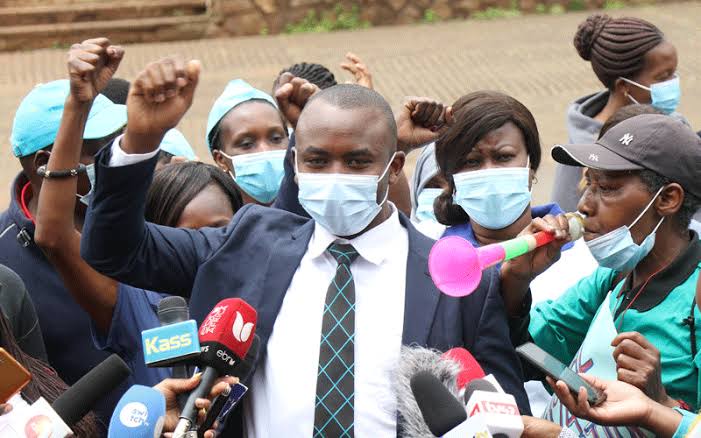 A section of striking Health Workers. Photo/Courtesy
The Taita Taveta County Government has ordered all dismissed health workers including doctors are nurses to vacate government houses immediately in order for them to be replaced by new recruits.
Governor Granton Samboja said his government would continue with plans to fill the vacancies of the 400 striking workers to restore health services in hospitals and public health facilities.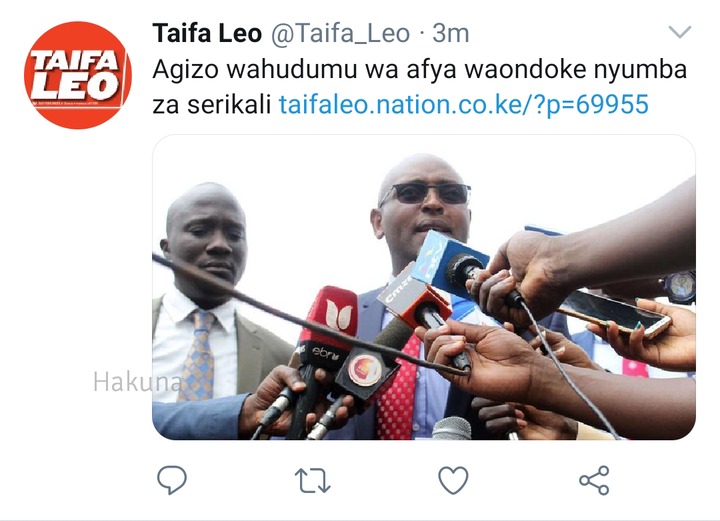 Earlier last month, the County Public Service Board announced 317 vacancies for nurses and 92 for medical officers.
Speaking as Mwatate, Mr Samboja said that already 19 staff members had asked for the board to be reinstated.
"I have asked the County Public Service Board to reinstate those who are willing to return to work. But I assure residents that we will be recruiting new health workers soon, "he said. County Secretary Liverson Mghendi said those seeking reinstatement had been given the opportunity to submit their applications to the board.
"Dismissed health workers should return the employer's property and those living in county houses should move immediately," he said.
Mr Mghendi said the county government had addressed many of the demands of the staff despite a lack of funds.
He said that 80 staff members have been promoted, 34 have been given new jobs and 45 have been given new grades.? He said the county service board was in the process of upgrading plans for 144 more staff members.
Mr Mghendi blamed the country's nurses' union (Knun) and the medical association (KUCO) for refusing to comply with a court order to complete a dispute resolution process between employers and workers.
Content created and supplied by: J.M. (via Opera News )