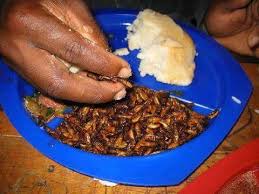 Termites are underground insects which feed on dead plants and animals. They are considered a special diet especially in western region. When fried, they are so delicious and have a numerous number of benefits which include:
1. Treatment of diseases.
Termites are useful in our bodies because they contain products which can be used to treat diseases such as swelling of large intestines, stomach aches, cholera, dysentery, indigestion and diarrhoea.
2. Treating pain and rheumatism.
They contain analgesic properties which are used to relieve pain in the body.
3. Gastric disorders.
Kaolin substances in termites help in gastric disorders.
4. Ulcers treatment.
Ulcers is a common disease that almost everyone has suffered. Fortunately, termites have been proven to cure this. Next time consider eating termites.
5. Essential for pregnant women.
Termites oil is applied on the stomach of pregnant women. It contains high amount of calcium and iron which are useful during pregnancy.
Content created and supplied by: MostreliableNews (via Opera News )