Liver is possibly one of the most nutrient dense foods on the planet regardless od it's declining popularity. People often look to fruits and vegetables for vitamins and minerals but liver far surpasses them all in terms of nutrient content. A small amount of liver provides over 100% of the RDI for many essential nutrients. It is also rich in high quality protein and low calories.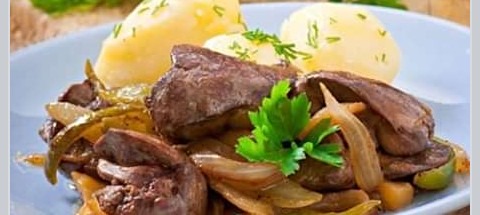 Here are nutrients found in beef liver:
1. Vitamin B12: helps in formation of red blood cells and DNA. It is also involved in healthy brain function.
2. Vitamin A : Important for normal vision, immune function and reproduction. Also helps organs like the heart and kidney function properly.
3. Riboflavin: Important for cellular development and function. It also help turn food into energy.
4. Folate: Essential nutrients for cell growth and formation of DNA.
5. Iron : Helps carry oxygen around the body. It contains Heme iron the kind that is easily absorbed by the body.
6. Copper: Acts like a key to activate a number of enzymes which help regulate energy production, iron metabolism and brain function.
7. Choline: Important for brain development and liver function.
How much should one eat
The USDA identifies a serving of liver and onions as one slice of liver with one slice onion. This amounts to 100g of food per serving. Such serving contains 156 calories. Of those 28 ce from carbs, 93 come from protein and 35 from fat.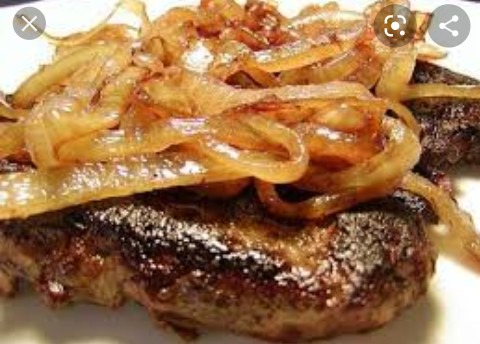 Benefits of liver:
Gives you energy
One serving carries 7.4g of cabs, evenly split between sugar carbs and complex carbs. Complex carbs break down slowly feeding your bloodstream a steady stream of energy for several hours.
Has protein power
Delivers 25g of protein. It is a complete protein. Contains amimo acids that your body needs but can't make for itself.
* Liver is actually an organ that filters out toxins for this reason, expectant mothers should be cautious of the food.
Content created and supplied by: Feimoraa99 (via Opera News )