Gynecomastia is the enlargement of breast tissues in males.It can affect one or both breasts.Mostly caused by an imbalance between the hormone oestrogen and testosterone.
When oestrogen levels are too high with testosterone levels gynecomastia occurs.It occurs naturally in males.However,there are conditions that can cause gynecomastia.These include:Obesity, poor nutrition,liver disease, hypogonadism and kidney failure.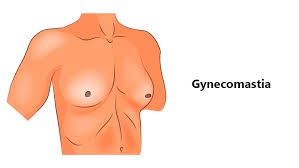 Image Courtesy Of Google
Certain drugs can also cause gynecomastia.These include: Estrogens, steroids,heroin, alcohol and marijuana.Usually there is no medication needed.Cases where medical conditions are the cause, treatment is administered.
Surgery is not recommended unless there is severe pain.The common symptoms include breast pain and swelling.Check also for the presence of a rubbery disk tissue in the nipple area.
It causes psychological issues among males.This is because they are too embarrassed and prefer to hide.Because of the embarrassment they face in public.Professional counselling needs to be done.Inorder to relieve them from depression that they may face.
What are your thoughts on gynecomastia?
Content created and supplied by: Sheila-spice (via Opera News )