The joy of welcoming a new born baby cannot be compared to anything in the world. A baby by the name Harper King was born through a c section and to the joy of everyone she survived.
However, as they were all celebrating the new life, they were astonished to see something that was not normal on her face.
There was a big birthmark on the toddler's pretty face. Looking at it, you will think that she has been painted on her right cheek.
Ebony a 23- year old lady from Huddersfield, Yorkshire who is the mother of the toddler said she was surprised and speechless when she first saw the patch.
"when I saw her, I was speechless. I couldn't believe that half of her entire face was covered. I was in shock, I think, and it wasn't until about two weeks later that I just sat down and cried my heart out.
i wasn't crying for me, but I was crying for Harper and for all the prejudice she will face in the future. I worry so much about her starting school and how cruel people can be, children as well as adults."
We all in one point or another have seen people who have faced discrimination for being different, Harper King will have to be prepared phycologically and mentally to face the world she has be strong to concur it all.
Some doctors have offered to correct it through surgery but her mother refused to give in. She says that she wants that decision to come from Harper herself when is old enough.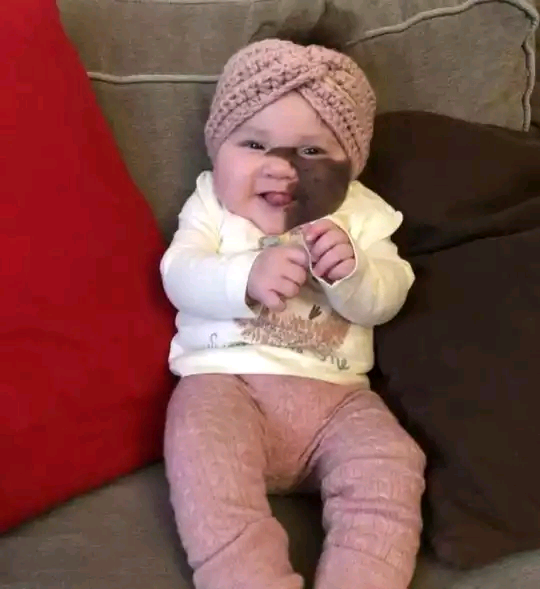 Specialists reveal that the patch is known as Congenital Melanocytic Navus and its rarely found on the face. Baby Harper king is among the few who got it on the face.
We hope that people will not bully the baby but instead they will accept her the way she is and make her feel good about herself. We are all made in the likeness of God.
What's your thoughts concerning this article? Drop your comments below and remember to follow, like and share. Thank you.
Content created and supplied by: brwnskingirl (via Opera News )