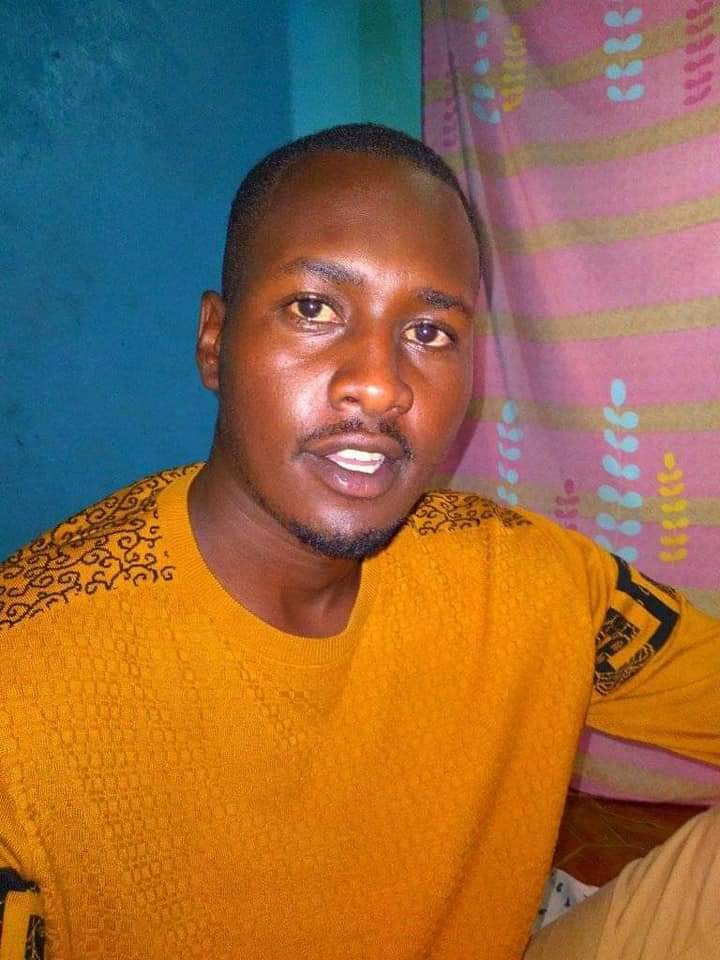 A young Man, Ljeuna Lanyasunya pictured has penned down a suicide not on Facebook citing life frustrations has caused him enough harm, now he is ready to take away his life.
His friends say he has gone missing for 3days and was lastly seen in maralal town. They are asking whoever saw or will see him to report immediately so he can be assisted.
Ljeuna message
My Name is David Ljeuna Lanyasunya of ID 2930391* I was born 1992 at lesidai village located in malaso sub location.
I grew up without a father at my grandmother's home. Her name was MARRY LANYASUNYA.
All she ever told me about my father is that he was a great man who loved everyone and was very kind and generous, though she says on the other hand that he died when I was 5years old,I would keep wondering why I don't even remember his face.
Though that never bothered me since my grandmother took good care of me. Though I knew my mother but she never allowed me to go to her until i was 14years, she then allowed me to go stay with my mother and sisters.
I wish i knew the kind of pain I just came to indulge myself into,I should have stayed with my grandmother. My mother passed through some painful moments after his husband's death.
When she would do nothing by her own to raise her children unless pass through channels and tubes of her husband's brothers.
Who kept torturing her life until she started drinking alcohol as stress cleaner. That is when everything became wild and our home turned into hell on earth.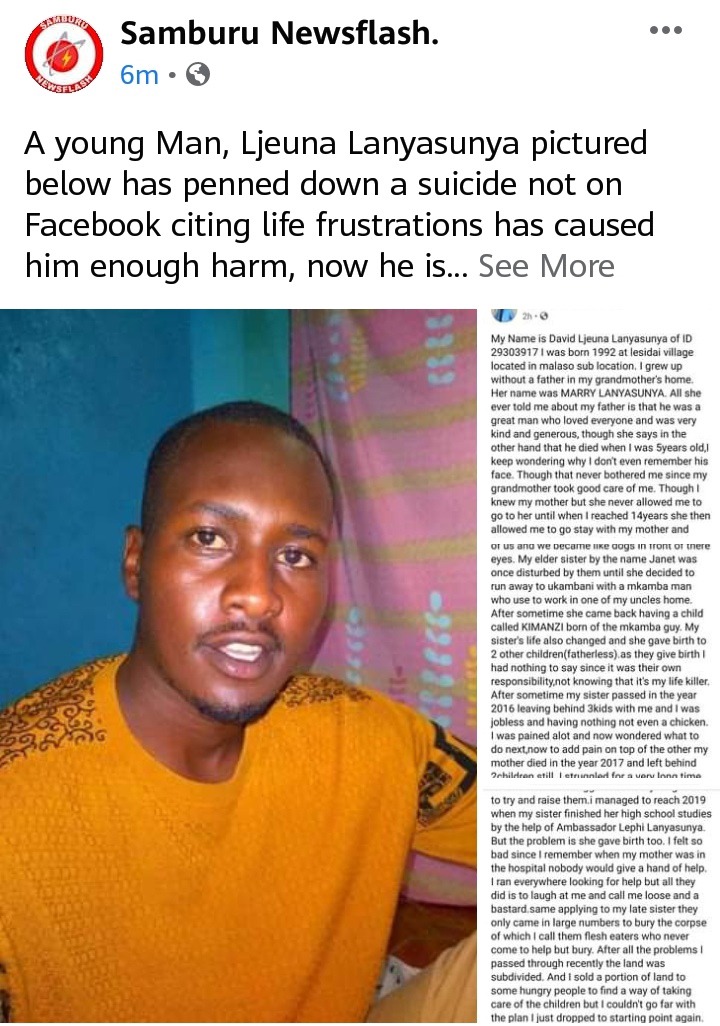 After some time my mother became sick of HIV/AIDS. Now this is when i realised that i was literally living with beasts and vampires.
My family looked down on us and nobody wanted to care not to visit and say Hi. They rejected all of us and we became like dogs in front of there eyes.
My elder sister by the name Janet was once disturbed by them until she decided to run away to ukambani with a mkamba man who use to work in one of my uncles home.
After sometime she came back with a child namely KIMANZI born of the mkamba guy. My sister's life also changed and she gave birth to 2 other children(fatherless).as they give birth I had nothing to say since it was their own responsibility,not knowing that it's my life killer.
After sometime my sister passed on, in 2016 leaving behind 3 kids with me and by then i was jobless and had nothing of my own not even a chicken.
I was pained alot and now wondered what to do next,now to add pain on top of the other my mother died in the year 2017 and left behind 2 children still.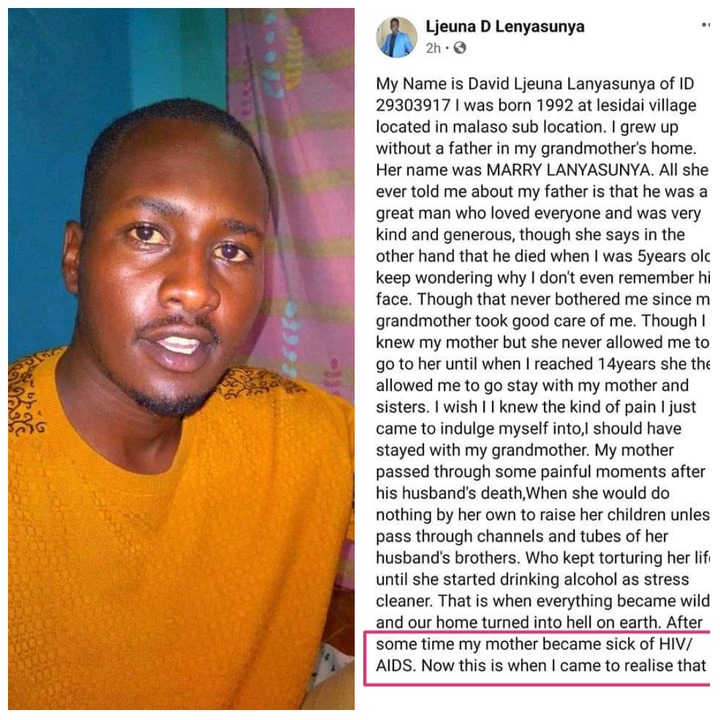 I struggled for a very long time to try and raise them.i managed to reach 2019 when my sister finished her high school studies by the help of Ambassador Lephi Lanyasunya.
But the problem is she gave birth too. I felt so bad since I remember when my mother was in the hospital nobody would give a hand of help.
I ran everywhere looking for help but all they did is to laugh at me and call me loose and a bastard. Same applying to my late sister they only came in large numbers to bury the corpse of which I call them flesh eaters who never come to help but bury.
After all the problems i had gone through recently the land was subdivided and i sold a portion of land to some hungry people to find a way of taking care of the children but I couldn't go far with the plan I just dropped to starting point again.
Now! This is the reason why I can't see them suffering again. I have to end my life now please whoever willing to help those children,please help and God will bless you. Thanks for all who did me wrong and I forgive you with all my heart. May God protect your families. Byee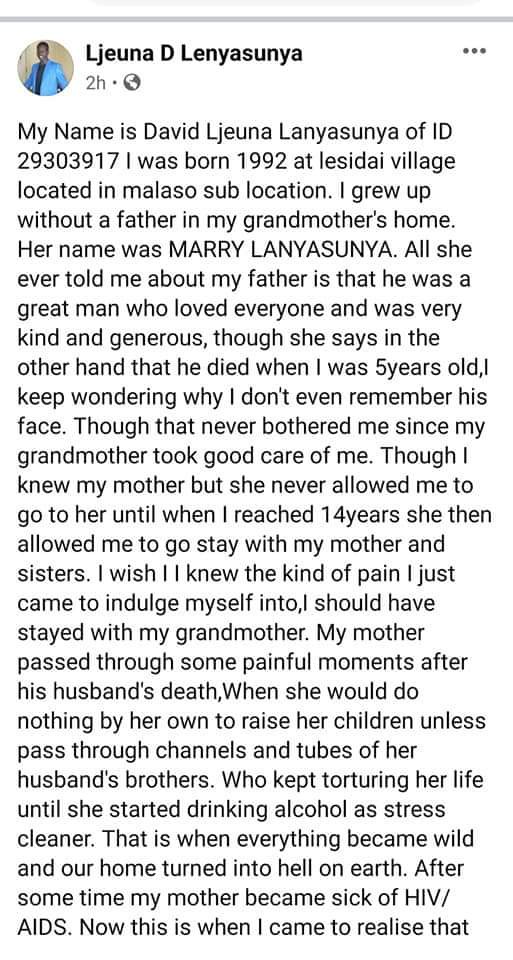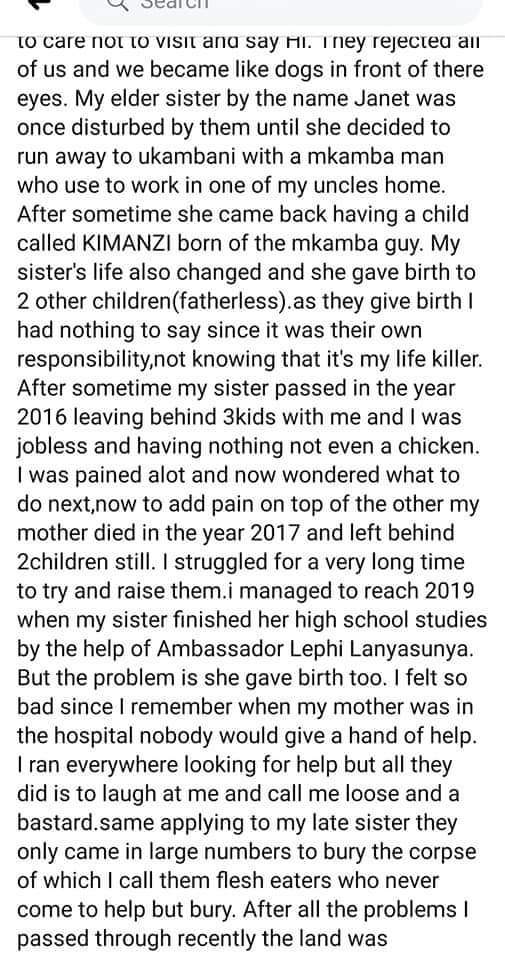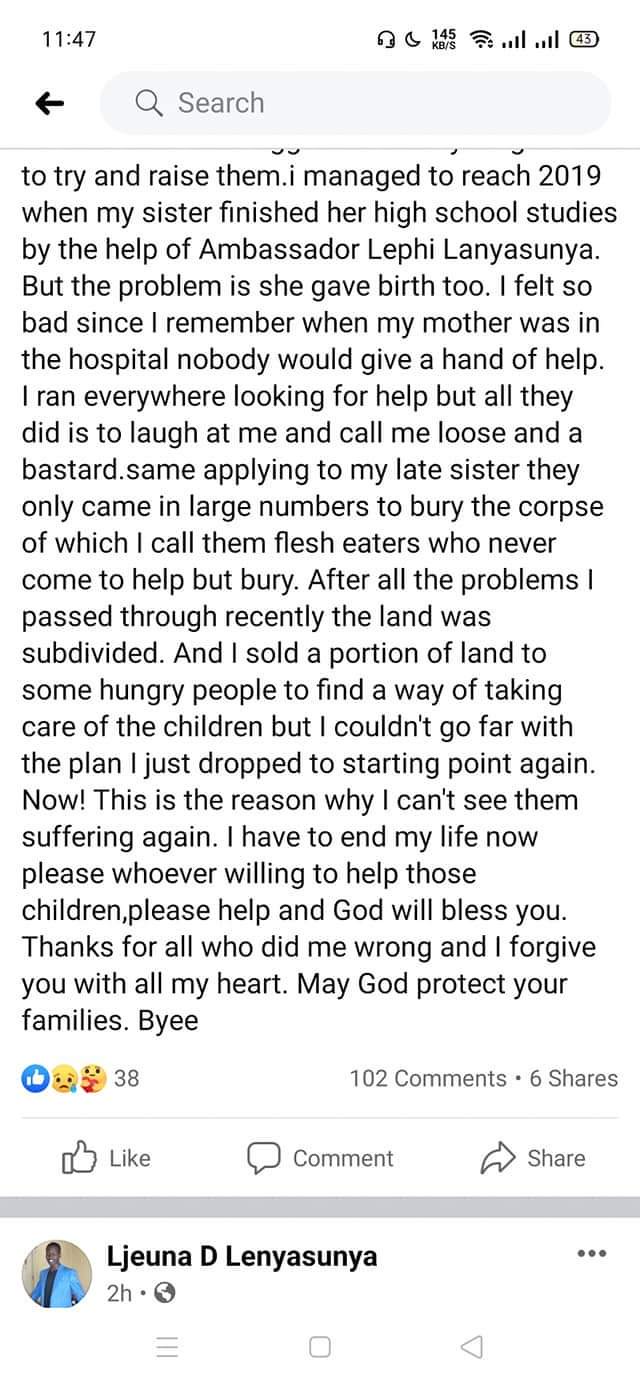 Content created and supplied by: AngelNewz (via Opera News )