Bed wetting is an involuntary urination while asleep after the age at which staying dry is reasonably expected. While it varies in different individuals, a person should stop bed wetting at around the age of five years. 
It's a condition which is embarrassing to adults which can lead to low self-esteem, shame as-well-as problems with relationships. 
Causes
While the real cause of this condition is unknown, some medical issues can lead to this problem including diabetes, family history of bed wetting, sleep apnea, Urinary tract infection and taking caffeinated drinks before going to bed. Excessive drinking of alcohol is a risk factor that increases the chances of bed wetting in adults. This is why people tend to per on themselves when drunk.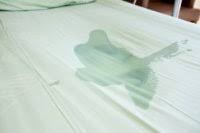 Treatment 
The treatment is aimed at the underlying cause and it ranges from behavioural changes and medications. Avoid caffeinated drinks at night and have a regular visit to the washrooms. You can also limit the amount of beverages your child drinks throughout the day. If you have this condition see a doctor. Desmopressin (DDAVP) and imipramine (Tofranil) are the major drugs used in the treatment of nocturnal enuresis. However, do not take these drugs without the doctor's prescription. 
Share the article.
Content created and supplied by: Trendiest_254 (via Opera News )