Fainting occurs when the blood flow to the brain temporarily halts causing unconsciousness. While fainting happens without any reason, some conditions increase the risk of fainting. For instance, fainting in pregnant women may indicate she's dehydrated. If someone faints next to you to this to save them.
1) Try keeping the person safe by laying them on a flat surface on their back. Make sure their airways are open and elevate the legs to restore the blood flow to the brain. If the person is overdreseed, undress them to enable air circulation in the body.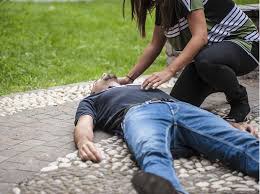 2) The next step us to revive the person. Make sure the person has fresh air. If you're in a closed room open the window and you're in a crowded place, ask the people yo move away. Offer the patient glucose or something sweet to keep their energy level high. 
3) Let the person lie on the side if they are vomiting to prevent choking. 
4) Call the health care provider if the person is not breathing or hits the head after fainting.
Content created and supplied by: Tonie_art (via Opera News )