Pizza is one of the most complicate recipes on earth. In this article, I am going to show you these simple steps on how you can make your pizza at home.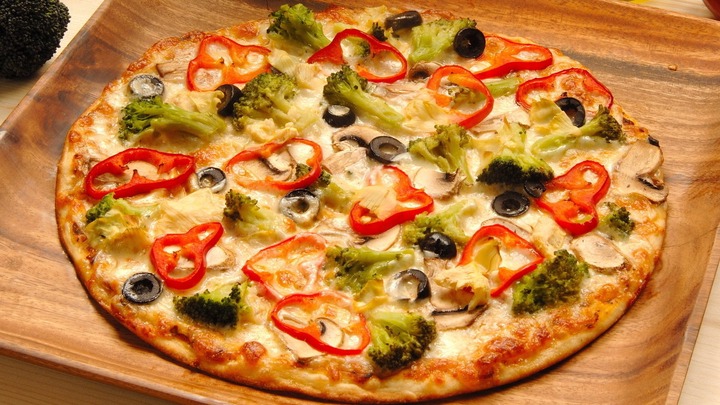 INGREDIENTS
1. 300ml of warm water
2. Two table spoonful of active dry yeast
3. 500 grams bread flour
4. Two table spoonful extra virgin olive oil
5. 2 tea spoonful common salt
6. 1 teaspoon sugar
7. Cornmeal
8. Tomato sauce
9. Grated firm mozzarella cheese
10. Fresh soft mozzarella cheese
11. Grated Fontina cheese
12. Grated Parmesan cheese
13. Crumbled Feta cheese
14. Thinly sliced mushrooms
15. Thinly sliced seeds and stems of Bell peppers
16. Sliced Italian pepperoncini
17. Crumbled already cooked Italian sausage
18. Sliced black olives
19. Chopped fresh basil
20. Fresh young arugula
21. Pesto
22. Thinly sliced Pepperoni
23. Caramelized Onions
PROCEDURE
1. Place the warm water in the large bowl of a heavy duty stand mixer. Sprinkle the yeast over the warm water and let it sit for 5 minutes until the yeast is dissolved.
2. Add the flour, salt, sugar, and olive oil and mix them thoroughly.
3. Give the dough time to rise.
4. Preheat pizza stone 245°C for at least 30 minutes
5. Divide the dough into two balls
6. Form two round balls of dough. Place each in its own bowl, cover with plastic and let sit for 15 minutes.
7. Prepare the toppings
4 Flatten dough ball, and stretch out into a round thin sheet.
5. Starting at the center and working outwards, use your fingertips to press the dough to 1/2- inch thick.
6. Sprinkle pizza peel with corn meal, put flattened dough on top.
7. Spread with tomato sauce and sprinkle with toppings.
8. Bake the pizza at 245°C oven, one at a time, until the crust is browned and the cheese is golden, about 10- 15 minutes.
Content created and supplied by: johnkimx.1 (via Opera News )