Kenyan kebabs are easy to prepare and taste absolutely amazing, especially when served with some sort of tamarind sauce to dip into.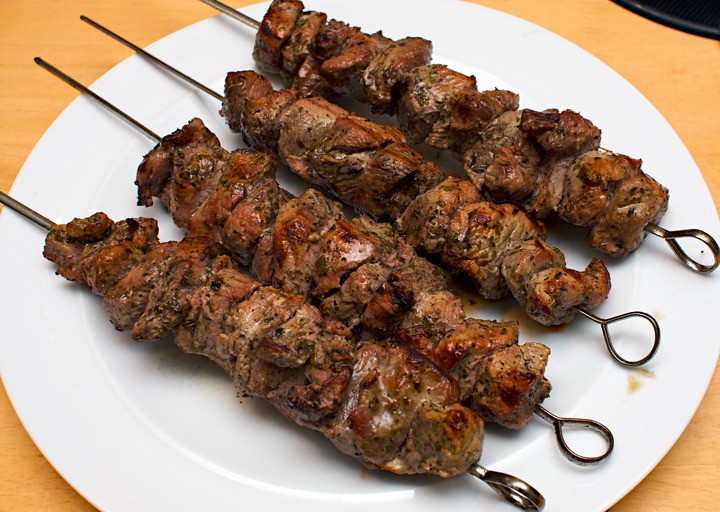 1. 500 gm beef or goat mince
2. 1 cup finely chopped fresh dhania/coriander
3. 2 tbsp. breadcrumbs
4. 1 tsp salt
5. 3. egg, lightly beaten
6. 1 tsp black pepper
7. 2 medium onions, finely chopped
8. 1/2 tbsp. garlic paste
9. 1/2 tbsp. ginger paste
10. 1 tsp cumin powder
11. 1 tsp coriander powder
12. 1 tsp chilli flakes or 2 finely chopped chilly
13. 1/2 tsp turmeric powder
14. 1 tbsp. oil
15. Ingredients for Coating
16. 1/2 cup all- purpose flour
Instructions
1. Heat 1 tbsp. of oil in a small pan and add the chopped onions. Sauté for a few minutes until softened.
2. Then add the ginger and garlic pastes and stir together for about a minute until aromatic.
3. Turn off the heat and allow this mixture to cool down completely.
4. In a large bowl, put the mince followed by the softened onion.
5. Then add in the salt, pepper, breadcrumbs, cumin powder, coriander powder and turmeric powder.
6. Add the chilly if you are using them as well as the fresh coriander.
7. Then add the beaten egg and mix everything until well combined.
8. You can prepare this mixture up to a day ahead.
9. When ready to fry, take a handful at a time of the mixture and shape into cylindrical kebabs. Place them on a tray and continue until all are done.
10. Heat oil for deep frying. In a wide bowl, beat the eggs with salt and pepper and the quarter tsp of garlic paste. Place the flour in a flat plate.
11. One at a time, take the kebabs and roll them in the flour and then dip each one in the beaten seasoned egg. Add to the oil and fry over medium heat for a few minutes.
12. You can fry them in batches to avoid crowding the pan.
13. Remove the kebabs from the oil and place them on paper towels, then repeat with the remaining kebabs until all are done. At this stage the kebabs are not fully cooked through so they will need to be re- fried.
14. Dip the fried kebabs into the beaten eggs once more and return them to the oil to fry a second time over medium heat. This will ensure that the kebabs are cooked all the way through. Fry for about 3- 4 minutes or until golden. If you want, you can repeat the egg coating a third time and re- fry.
15. Remove on to tissues to drain any excess oil. Serve with lemon wedges, kachumbari or with a dip of your choice.
Content created and supplied by: stemax.com (via Opera News )