I never thought I'd need a cow's brain and a credit card for this lil' ol' Global Table Adventure of ours.
The thing is, if I were to make Kisra in the most authentic way – the South Sudanese way – that's exactly what I'd need.
Locals would use the cow's brain, which is naturally quite fatty, to grease the pan. I got the tip on good authority; from this amazing South Sudanese food post on Green Shakes in Sudan. There you'll find photos of local women rubbing brain renderings on their flat griddle-like pan.
According to The World Cookbook for Students, unroasted sesame oil works fine as well… and gives the wholesome crepe a clean sort of flavor and makes them entirely vegas.
I read several passages that indicate locals spread out the kisra batter with credit cards. I had a small plastic scraper that worked just fine… but the credit card would definitely add a touch of excitement (will it or won't it melt?!). The important thing is for it to be small and easy to move around the pan at a 30 degree pan.
I learned from first-hand experience that, if you use all Sorghum flour, the crepes crack and fall apart. Including some all-purpose flour is critical (and even makes it easier to spread on the griddle). Nonstick pans are also best for beginners.
Ingredients:
2 cups sorghum flour
1 1/2 cups water, plus 1 cup, or as needed
1 cup all purpose flour
unroasted sesame see oil or the rendered fat from cow brain
Method:
First, find a lovely vista in South Sudan from which to cook, where the green and the rock meets the blue and the cloud.
Panoramic from the top of Mount Kinyeti in South Sudan, looking further into the country. Photo by AIMikhin.
Next, mix the sorghum flour with 1 1/2 cups water and let sit overnight (at least 12 hours).
Take a long walk through that misty mountain while you wait.
The next day stir in the all purpose flour and last cup of water, to form a thin batter.
Ladle some kisra batter into a greased pan over medium heat. Immediately take a credit card or small scraper and, holding it at a 30 degree angle, spread the batter around smoothly. This can take some practice. Feel free to eat the works in progress.
When the edges begin to curl up like a smile, the kisra is done. This should only take a minute or so.
Stack them on a plate and keep warm with a towel. After they cool, they're quite a bit more sturdy… and are less likely to break or crack… you'll even be able to bend and curl them, like so:
Serve the wholesome, snappy kisra with any thick, hearty stew.
Enjoy the delicious, whole grain flavor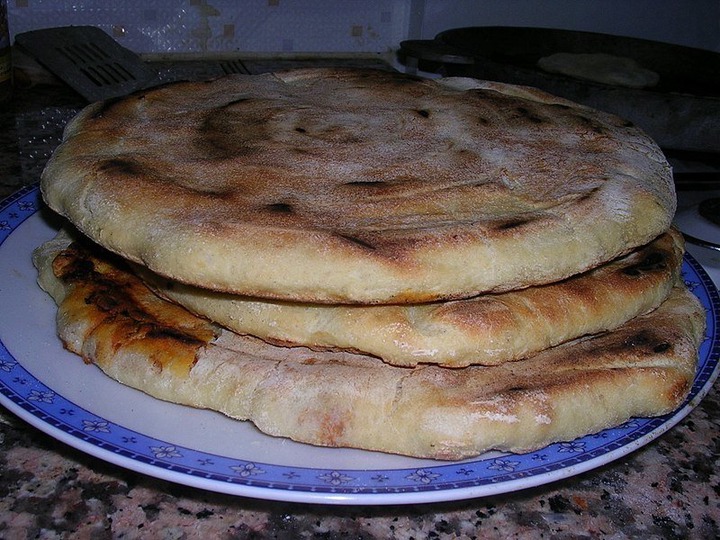 with a smiling friend, old or new.
Content created and supplied by: Wandabwa (via Opera News )