In this article you will learn how to make swahili beef biryani but you can also use the same recipe to make chicken biryani or with using any other kind meat.
Ingredients.
For beef.
1kg beef (cut into pieces)
150ml plain yoghurt.
1tbsp crushed ginger.
1tbsp crushed garlic.
1/4 tbsp black pepper.
1tsp salt.
1 tsp chili powder.
5 whole cardamom pods.
1 stick cinnamon.
For rice.
3 cups of rice.
6 cups of water.
1/2 tsp food colour.
For sauce.
5 tbsp cooking oil.
1 stick Cinnamon.
5 whole cardamoms.
1/4 tsp black pepper.
6 fresh tomatoes.
5 medium potatoes.
1 tbsp crushed ginger.
1 tbsp crushed garlic
1 tsp salt.
1 tsp chilli powder.
1 lemon.
Instructions.
1.In a bowl add yoghurt, ginger, garlic, black pepper,salt, chilly powder, cardamom and cinnamon and mix well then add beef to marinate for 15-30 minutes.
2. Place the beef mixture in a cooking pan and let it cook until the water dries up.
RICE.
1. Put 3 cups of rice in a clean bowl,wash the rice 3 times and drain the water.
2. Soak the rice for at least 10 minutes.
3. In a pot add six cups of clean water, salt, cooking oil and let it boil.
4. Add the soaked rice and let it boil till the water drains.
5.Transfer half of your rice in a tray.
6. Sprinkle some water with food colour on the remaining rice in the pot.
7. Transfer the rice on the tray back to the pot to cover up the sprinkled rice.
8. Cover the rice with a lid and let it dry for 5 minutes with little heat.
9. Remove from the heat and set aside.
Biryani sauce
1. Heat the oil, add the sliced onions and fry until golden brown.
2. Add black pepper, cardamoms, cinnamon sticks, garlic,ginger, chilli and let it cook for 5 minutes while you stir.
3. Add tomatoes, potatoes,salt, tomato paste , lemon juice then stir the mixture, cover it and let it cook for 10 minutes on a medium heat.
4. Add the beef and one cup of water to the above sauce,cover and let it cook for another 10 minutes.
5. Remove it from the fire and set aside.
6. Serve with the rice you cooked above 😋😋.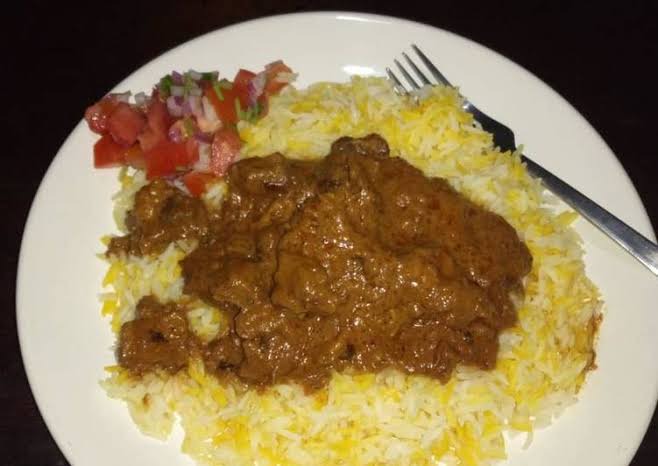 Enjoy!!!!!
Don't forget to like and comment below 👇
Content created and supplied by: SusanK (via Opera News )