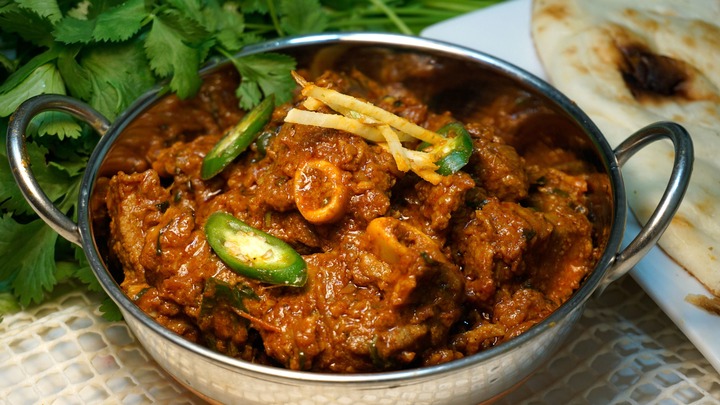 Ingredients
1. 1 kg mutton/goat/lamb meat, on the bone cut into pieces
2. 1/4 cup oil
3. 2 tbsp butter or ghee
4. 3 onions, finely diced
5. 1/2 tbsp ginger paste
6. 1/2 tbsp garlic paste
7. 6 medium tomatoes, chopped finely
8. 1/2 cup fresh thick yoghurt
9. 1 tsp Kashmiri chilli powder
10. 1 tsp cumin seeds
11. 1 tsp coriander seeds
12. 1/2 tsp turmeric powder
13. 1/2 tsp whole black pepper
14. /2 tsp dried fenugreek
15. 2- 4 dried red chilies
16. 1 tsp garam masala
17. 1 green chilli, slit
18. salt to taste
19. julienned ginger for garnishing
20. coriander leaves, chopped
Instructions
2. Then add the dried fenugreek and grind this spice mixture into a powder.
3. Heat the oil and butter/ghee in a pan.
4. Add the ginger and garlic pastes and stir it in for a few seconds.
5. Then add the meat and fry it over high heat in the fragrant oil until it changes colour slightly. Once browned, take the meat out using a slotted spoon and place it into a bowl. Keep it covered.
6. Add the onion slices into the pan with the residual oil and fry them until almost golden.
7. Next add the chopped tomatoes, salt and all the powdered spices (including the ground ones) except for the garam masala.
8. Mix everything well, then turn the heat down and allow the tomato- onion mixture to cook and thicken up. Once the oil begins to get released from the sides, whisk the yoghurt and mix it in well until fully incorporated.
9. Then add the meat back into the gravy and stir it in. Add about 1 cup of warm water and turn the heat down to low. Cover the pan and allow the meat to simmer and cook until fully tender.
10. Keep topping up with warm water as and when needed.
11. Once the meat is fully cooked, taste and adjust salt and sprinkle the garam masala, slit chilli and chopped coriander.
12. Stir them in and turn the heat off. Allow the dish to rest for at least 10 minutes (covered) before serving so that the flavors get properly infused.
13. Garnish with ginger and more coriander, and serve with either rice or naan
Content created and supplied by: stemax.com (via Opera News )