Berry muffins are small rounded cake like cookies. The main ingredient here is flour. In this article, I will guide you on how to make berry muffins. The ingredients may vary depending on your servings. They can be served with tea during breakfast or taken as fast foods or snacks.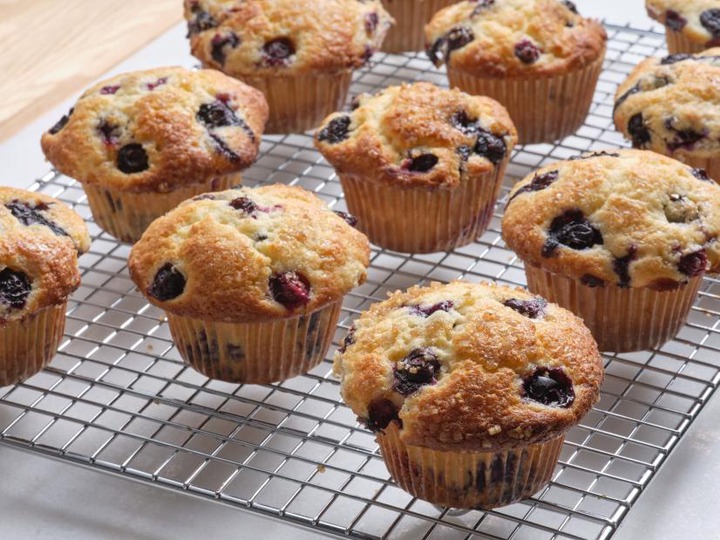 1. 950grams Self Raising Flour
2. 290ml oil
3. 4 yellow yolk Eggs
5. 290 grams Sugar
6. 200grams Berries (You can decide to use Raspberries or strawberries, fresh or frozen)
7. 100ml water or fruit juice (apple or orange)
Procedure on how to cook Berry muffins (Method)
1. Wash and dry clean a 3 tin by wiping it with a dry cloth
2. Start by preparing your muffin tins by greasing lightly with little oil.
3. Pre- heat the oven to 1800C
4. Sift the flour and set aside in a large bowl. Mix the fruits, sugar, eggs, water/fruit juice in a separate bowl and oil then add to the sifted flour.
5. With a wooden spoon or by hand, mix all the ingredients together to form a soft dough. (Ensure that the mixture is uniform and that there are no lumps)
6. Fill the muffin pan 3/4 full using a spoon or ice cream scoop and bake in the preheated oven for approx. 25 minutes or until golden brown. (Dip a knife in one of the muffins to check whether they are ready. If the knife gets sticky or wet, then they are not ready. If the knife gets out clean, then you are now sure that they are ready)
7. Remove from the baking tins while still warm and sprinkle with icing sugar and enjoy warm.
They can be served with hot milky tea or taken as a fast meal. They can also be served together with dinner.
Content created and supplied by: johnkimx.1 (via Opera News )