Reading this article will help you make the perfect orange chicken that you have been dreaming of making.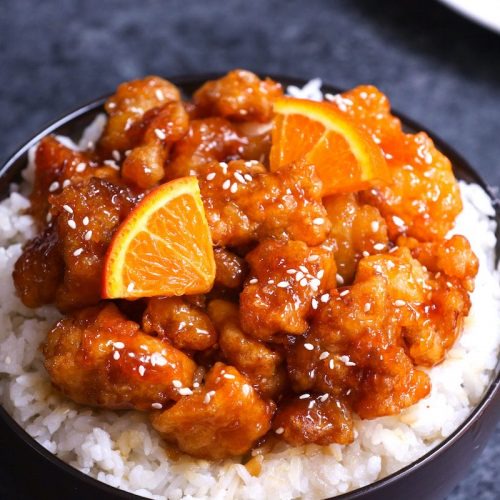 4 Boneless Skinless Chicken Breasts cut into bite- size pieces
3 Eggs whisked
1/3 cup Cornstarch
1/3 cup Flour
Oil for frying
Orange Chicken Sauce:
1 cup Orange Juice
1/2 cup Sugar
2 Tablespoons Rice Vinegar or White Vinegar
2 Tablespoons Soy Sauce use tamari for a gluten- free dish
1/4 teaspoon Ginger
1/4 teaspoon Garlic Powder or 2 garlic cloves, finely diced
1/2 teaspoon Red Chili Flakes
Orange Zest from 1 orange
1 Tablespoon Cornstarch
Green Onions
Orange Zest
Instructions
How to make the orange sauce:
Step 1: In a medium pot, add orange juice, sugar, vinegar, soy sauce, ginger, garlic, and red chili flakes. Heat for 3 minutes.
Step 2: In a small bowl, whisk 1 Tablespoon of cornstarch with 2 Tablespoons of water to form a paste. Add to orange sauce and whisk together. Continue to cook for 5 minutes, until the mixture begins to thicken. Once the sauce is thickened, remove from heat and add orange zest.
How to make the chicken:
Step 1: Place flour and cornstarch in a shallow dish or pie plate. Add a pinch of salt. Stir.
Step 2: Whisk eggs in shallow dish.
Step 3: Dip chicken pieces in egg mixture and then flour mixture. Place on plate.
Step 4: Heat 2- 3 inches of oil in a heavy- bottomed pot over medium- high heat. Using a thermometer, watch for it to reach 350 degrees.
Step 5: Working in batches, cook several chicken pieces at a time. Cook for 2- 3 minutes, turning often until golden brown. Place chicken on a paper- towel- lined plate. Repeat.
Step 6: Toss chicken with orange sauce. You may reserve some of the sauce to place on rice. Serve it with a sprinkling of green onion and orange zest, if so desired.
Content created and supplied by: salaamaleikum (via Opera News )