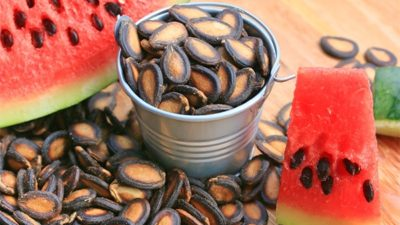 Most people are accustomed to spitting the seeds out, while others opt to go for the seedless, but those seeds are fully packed with very beneficial nutrients, here are some of those benefits.
Improves heart health
They promote your heart health in so many ways, this is cos they have magnesium which is useful in regulating normal blood pressure and also promoting a good and healthy heart, they also are anti-inflammatory, vasodilators, and antioxidants.
Supports nervous system
The main reason is that they are a good source of vitamin B, whose responsibility is to keep the brain healthy, also it is good for people with dementia and mood disorders.
Prevents osteoporosis
IF you have weak bones, this might be a good reason to take the watermelon seeds, the seeds are rich in magnesium, copper, and potassium which can prevent bone disorders if eaten regularly.
Skin health
The seeds are full of anti-oxidants and their oil is used widely in most beauty products, this is cos they have vitamin C which helps a lot in treating acne and the early signs of aging.
Hair strengthening
Each one of us wants to have the perfect hair, watermelon seeds are the solution, and they come fully packed with protein, zinc, magnesium, iron, and even copper, they'll help promote hair growth and even prevent your hair from falling.
Content created and supplied by: zach_steven (via Opera News )