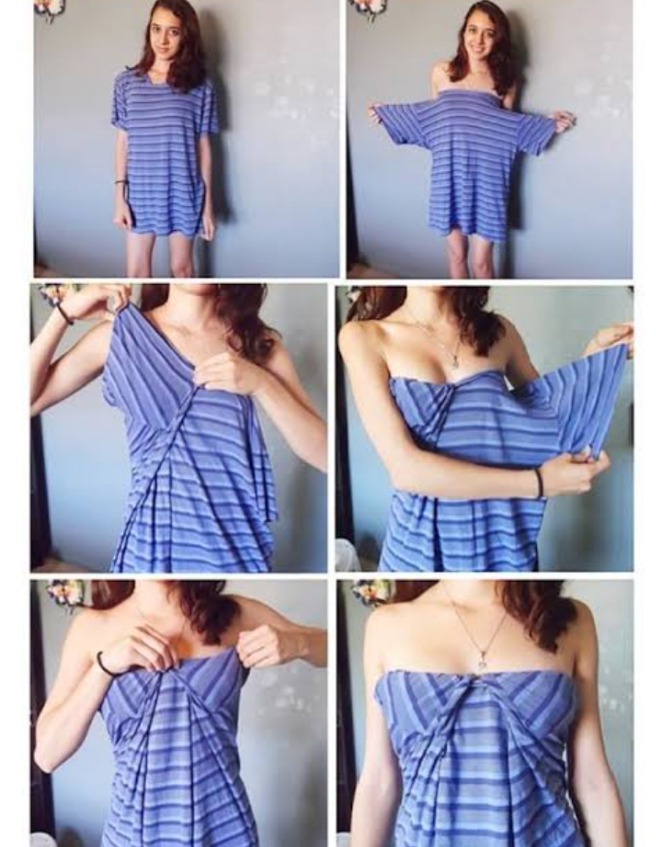 I am no fashionista, but I know the importance of personal style. In fact, I talk alot about the importance of body language and conversation starters, but stylish clothing also has a big impact on our first impression.
1.Elastic cuffing is very easy and can transform any wide legged trousers, from jogging bottoms to jumpsuits, provided the fabric is "flimsy" enough to take the new shape.
2. If your wardrobe is full of dresses that could be great if only they had different sleeves, or jumpsuits whose chic necklines are undermined by saggy bottoms, you could try repurposing them using the half you like.
3. An even simpler fashion hack is to make a a skirt or top by slicing off the dress.
4. Naturally waterproof your canvas shoes by rubbing them with beewax and setting it with a blow dryer.
5.When ironing a button down shirt, flip it inside out to easily iron over the button side.
6. To quickly get rid of deodorant stains, run them with a pair of jeans. Test a small patch first to avoid any color transfer.
7. Remove a red wine stain by gently blotting with a cloth soaked in white wine.
8. To remove yellow sweat stains from white shirts, spray the affected areas with lemon juice before you put them in the wash.
9. Spray tights with hairspray to prevent runs.
10. To clean dirt off suede, remove the crust from a piece of bread and allow it to become stale. Gently rub the stain with the edge of the stale bread and it will disappear.
11. Make your T shirts vintage level soft by leaving them in salt water for about three days, and then wash normally.
12.Get an oil stain out of a purse by coating the mark with baby powder and letting it sit overnight. By morning, the stain should be gone.
13. Maintain the wash of your favourite pair of jeans by adding a 1/2 cup of distilled white vinegar to the final rinse cycle while doing laundry.
14. Check your bra fit by seeing if you can fit two fingers under your bra and comfortably. If you can't, it's probably too tight.
15.You can tell if a pair of pants will fit without trying them on by wrapping the waist around your neck. If the pants are your size, the jeans will wrap just once around your neck without overlap.
16.To prevent clothing from wrinkling in a suitcase, fold everything in plastic dry cleaning bags.
Share your thoughts on the comments sections about any fashion hack you know.
Content created and supplied by: Vivianmercy (via Opera News )