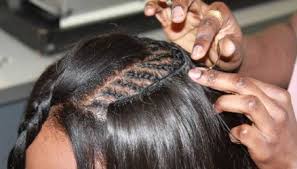 A beautiful woman coming home from the salon. She is happy and in high spirits-looking pleased with the hair on her head. The beautician has done a fantastic job and the woman is reveling in it.She goes to sleep that night and is woken up in the morning by the itchiness of maggots falling off her scalp. This is the stuff horror movies are made.According to some reports, this-or something similar-did happen to some women.
But is a maggot infestation from hair extensions really possible? "It is a possibility but not quite plausible," The hair industry has strict guidelines and strong manufacturing standards. Human hair-extensions go through stages of treatment and processing so that they are clean and healthy for use." This is brought up by counterfeit products and may contain lice, fungal spores, parasitic eggs, and pathogens of different kinds. These will cause disease that may cause hair loss as well as irritation and pain.
According to this, hair infection can spread from one person to another through sharing wigs, braids and synthetic and human-hair extensions and weaves.Contact between a career of a pathogen and a healthy person will result in infection.Transmission of scalp infections occurs in the same way as skin infections.Myaisis-infestation of the skin by developing maggots-is a phenomenon that can occur on the scalp and is common in tropical and sub-tropical climates.
Content created and supplied by: JAYLONJEFF (via Opera News )