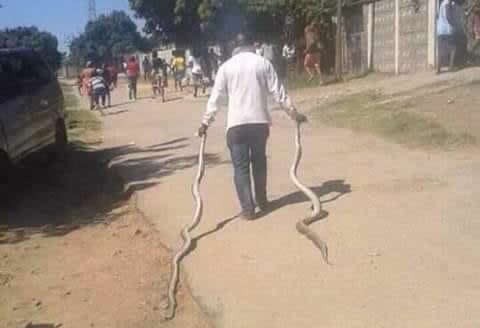 Snake Business is not a new thing in Africa and Kenya at large. Many People have kept them at their homes for either tradition purposes or Business Interests.
Tragedy today has be felt a Man in Baringo County who has been rearing snakes for Tourists attraction where he gets his daily living. According to reports, he had gone early in the morning to clean up the house in which he keeps them as it is his daily routine. Seeing that he had stayed for quite a long time his own Brother went to check up on him. Unfortunately, he found him strangled by one.
Efforts to rescue him proved futile as he had already been choked to death. He called for help from neighbours and together they managed to remove the snake from his neck. As of the Kenyan Law! they called in the police who assessed the whole situation, ordered the removal of the animals and took the body of the deceased to the mortuary.
The snakes are to be taken under the custody of the KWS.
Content created and supplied by: Flashesofhope (via Opera News )