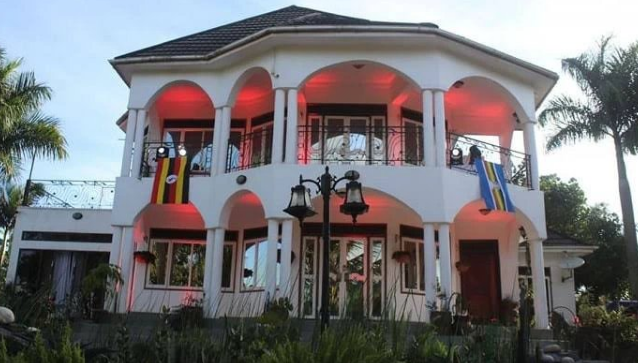 From early 2000, Bobi has accumulated immense wealth from the music and film industry. This has made him the wealthiest musician in Uganda, followed by Jose chameleone.
Bobi' s wine turns 39 years old with a dear career both in music and politics, leaving dozens of people, especially the youth, inspired by his flow of courtesy and courage.
Many identify him as the flame of the fate that torches truth to guide people towards a better future for themselves and the Ugandans in general.
Bobi Wine has a palatial multi- million Home of his I' d located in Kampala, a place called Magere, Kampala.
Bobi wine is amongst the earliest breeds of the new- age celebrities and song composer who has been with the massive breakthrough.
Painted all white, this house costs over one hundred million Kenya shillings, and it does have lots of features.
Robert kyagulanyi Ssentamu, popularly known as Bobi Wine, is a Ugandan musician who is now described as a' ' Dare devil' ' even after the signs of brutality, kidnaps, and torture during his campaigns, Bobi wine did not give up.
This is the very same house where a bomb was once thrown in, but it never denoted, and it' s also the Home where Bobi Wine is currently under house arrest by the Uganda military police.
On Friday, February 12, 2021, a sensational Ugandan singer and politician Robert Kyagulayi was Bobi wines Birthday.
Bobi wine' s house is one of flood story building, and it does have a very beautiful shape and a nice white color that makes it glow much more.
The home is very spacious, and it also has a kitchen garden and the right amount of space at its front part.
 Bobi wine' s net worth is high. Approximately 10$ millions of all assets and liabilities in Tanzania shillings is over one billion.
The musician comes from a simple and humble family, and his wealth is assumed to be accumulated legally.
Content created and supplied by: CalistusMungwana (via Opera News )