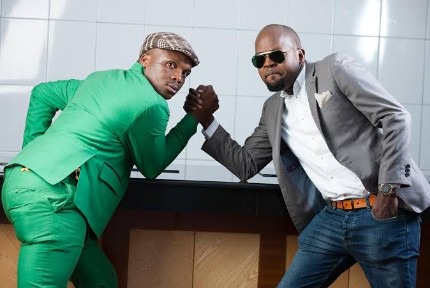 The two voices, Alex and Jalang' o are planning something big for their fans. This according to the hint the sent via their social media accounts. The two celebrated radio hosts gave an hint, igniting speculations that they are set to reunite on air, having previously worked together.
They both uploaded a similar picture on their Instagram accounts, adding the caption #AlexNaJalas. Alex was the first to put the point on his account, adding further THE TIME IS NOW CC @JALANG' O.
Later, Jalang' o also uploaded the same picture, but now with a different caption.
For Jalang' o, he wrote NEW YEAR NEW THINGS. After the caption, Jalang' o added their brand hastag #AlexNaJalas and tagged Alex. Many of their fans were left guessing on what the duo are planning.
The questions or them working together on radio could not be ignored. However, others think they are planning to work on an online TV show.
Jalang' o has some good followers on his YouTube channel. There are some thoughts he might start doing something with Alex online. On this, they have put everyone on wait and see mode.
Jalang' o and Alex have worked together in two different media houses before. They had worked at Radio Maisha and more recently at Milele FM before Jalang' o left from Kiss 100. It was reported that he disagreed with the management over salary issues, leading to his resignation.
Fans are super excited and left thousands of likes and comments on the posts. One fan said, " the interview you did with him was honestly the best one I' ve seen on this channel. . . glad to see this is happening" .
Their fans are already excited, eagerly waiting for their reunion. One said, " Utaacha kutubeba ufala sasa…but that' s the best collab ever. " Another one appreciated their chemistry, saying " Hands down! ! Best duo have ever heard on radio. "
Another happy fan wrote " People' s party. Kutender case baadaye. " while another said " Your friendship is on another level! Favourite duo. "
One fan who could not wait to follow the duo said " Aaaaw you guys harry up, I can' t wait. " while another who used to enjoy the fun during the show indicated, " #AlexNaJalas. . . ile kicheko itakua hapa. Nshaanza kucheka ata. "
Content created and supplied by: Eddubande (via Opera News )