Marriage is the legally or formally recognized union of two people as partners in a personal relationship (historically and in some jurisdictions specifically a union between a man and a woman)." a happy marriage"
Most people have perceived that getting married is a passage from one stage to the other. Others take to it that marriage brings about honor and respect in someone's life. Most women feel loved, appreciated, comfortable and secure once they are married. Unlike in the past whereby in most cases parents were the ones scouting for their children's partners, nowadays people come together because of love and how much they feel towards each other.
People marry their choices and in most cases they are not confined within their ethnic boundaries, color or even religion.
According to K24 TV, women in Mwangulu Village in Kwale County have complained that men are not marrying them.
"Women in Mwangulu Village, Kwale County complain en masse that men are not marrying them." Tweeted by K24 TV.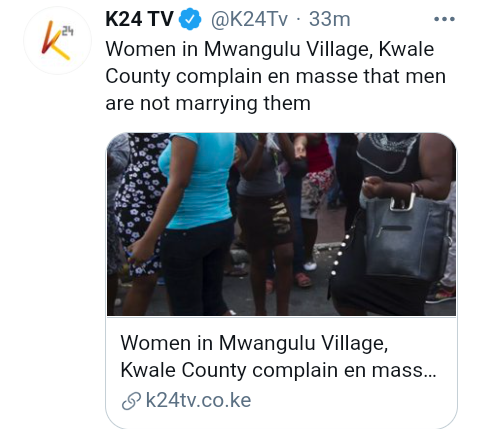 Content created and supplied by: ibramo (via Opera News )