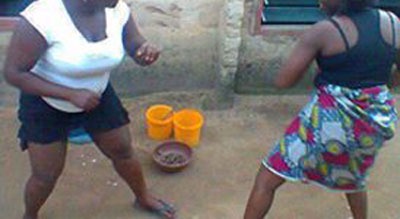 Marriage is a Communion,and an institution that is constituted on a constitution. To some, the Constitution allow no changes without mutual understanding between the couple. A attempt to bring in a third party could create havock.
However,trust,honesty and selflessness are key virtues to a healthy and happy marriage. Ones they get out of picture,the relation becomes unbearable. This invites more challeges infidelity being most expected.
However,in a move to defend her right,a certain Married woman attacked a Husband's side chick with blows on her face reminding her that she is the legal wife and is ready to defend her Marriage for whatever it takes.
The other lady who was prepared as well, was not willing to back off. She proudly confessed her pleasure in married men and ready for the fight. The two caused drama as they mercilessly blowed each other uttering disgusting and disgraceful words to each other,before attracting attention of neighbors,that managed to contain the situation.
In conclusion, everyone should be satisfied with what you have. Causing drama, while fighting one another is not a good show. Respect your friend's relationship and look for your own whenever their is need.
Content created and supplied by: Verofriday (via Opera News )