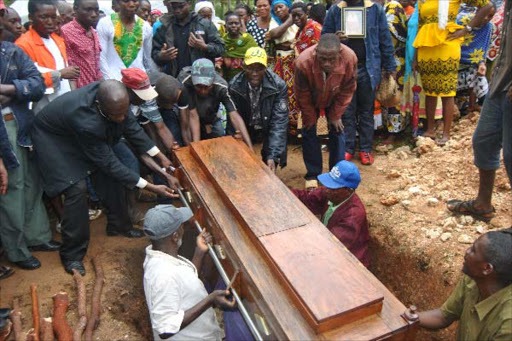 Relatives of 85 years old Charles Abir lower his casket for burial today Feb 7, 2021. Abir reportedly bought his casket in 2016 and died five years later. he did so to save family at his home in Pala koguta area of Homabay County members from incurring huge costs for his burial.
A man who bought his own coffin and traditional clothes five years ago was buried in Homabay today. Charles Abir made the arrangements on April 13, 2016, to spare his poor family funeral expenses.
He reportedly spent more than Sh40,000 to buy the coffin and clothes. Family members said that he had been ailing for the past two years before he died at his home in Pala Koguta village.
Speaking after the burial, his son George Ochieng told a local radio station (Kalusi Fm), that they met all conditions in their father's will, despite some challenges.
"Had it not been for the coffin he bought for himself, we could not have managed to bury him after three days, as he wished," he said.
Omondi Fredrick said Charles decided to buy his coffin after facing many challenges during his daughter's burial in 2013 due to financial constraints.
Another son, Leonard Oloo, said Charles had kept the idea a secret. "I learnt about it from the media while at work," he said.
Hundreds of residents turned up for Charles's burial.
What's your Opinion concerning the matter? Please leave your thoughts in the comments section and follow for more news updates.
Content created and supplied by: MkenyaNews (via Opera News )