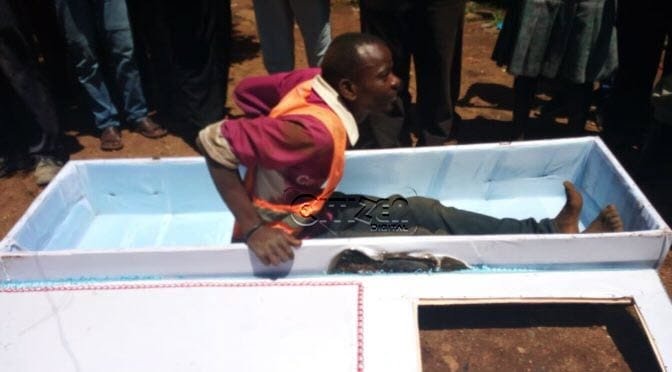 Gordon Jasiaya, man who threatened to commit suicide and bought himself a coffin in in Homabay. PHOTO/GEORGE PINTO
A man on Wednesday Feb 10, 2021 surprised his neighbours after he bought himself a coffin, threatening to commit suicide over marital disagreements.
According to the neighbors, they were forced to vacate the compound for about half an hour before they returned after gaining courage and sought to establish the intention of Gordon.
The man, who was reportedly under the influence of alcohol at the time, could be heard saying he was going to commit suicide and that the coffin was in readiness for his burial.
Residents who spoke to a local radio station (Milambo Fm) said Gordon got off a vehicle carrying a white colored coffin on Wednesday afternoon.
He also cited the reason for planning to take his own life as means of getting away from the endless domestic squabbles with his wife who was not in the compound at the time of the incident.
Gordon, who originates from Siaya County, reportedly lay in the coffin while shouting continuously, accusing his wife and the mother of his three children for "stressing" him.
He was, however, counseled by his neighbours after which he agreed to return the coffin and seek alternative means of solving his marital problems.
Area administrator Caleb Ombura, who confirmed the incident, said the man was also being sought by the police over reports of assaulting his wife but that he had remained elusive.
And it's believed that According to luo customs, he did a bar omen and must be cleansed or else he will sure die in a later date.
What's your Opinion concerning the matter? Please leave your thoughts in the comments section and follow for more news updates.
Content created and supplied by: Hustlerscandidate (via Opera News )