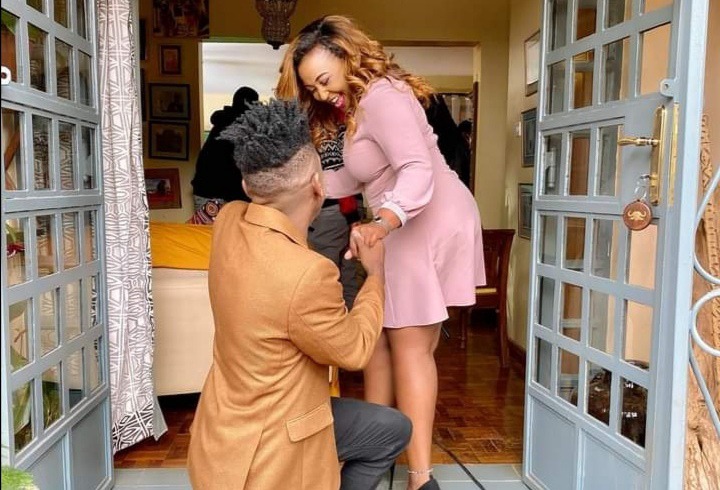 Betty Kyallo is one of the most loved and celebrated celebrities in the country who used to be a news anchor.
Kenyans have reacted to a photo of man kneeling to Betty Kyallo in public.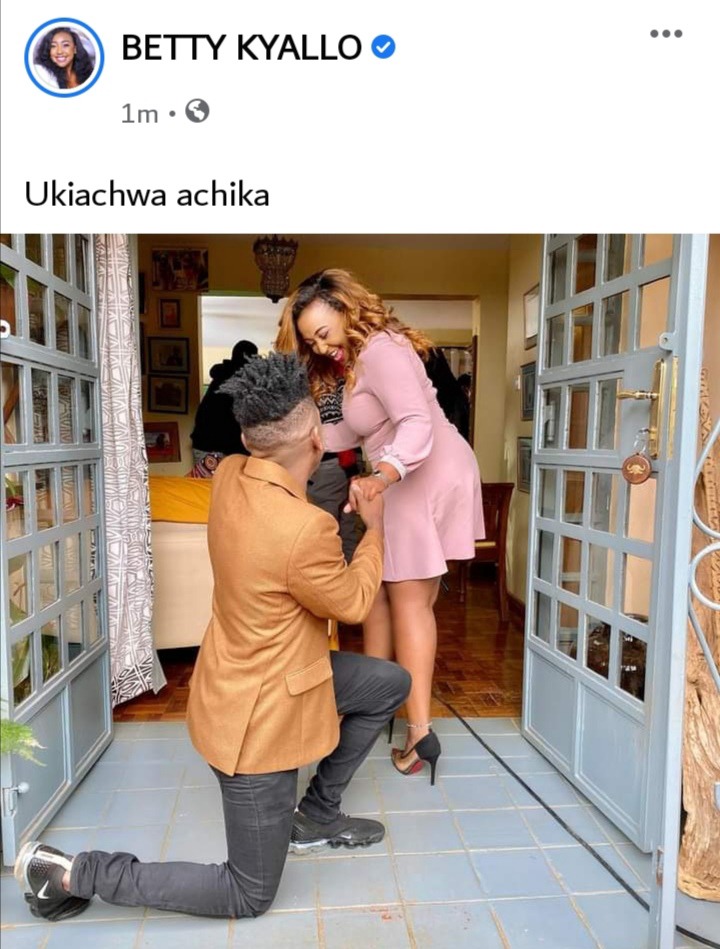 Below are reactions of the netizens :
Junior DR King
To be sincerely honest in my humble opinion without being sentimental and of course without offending anyone who thinks differently from my opinion but rather looking into the matter with perspective distiction of view and without condemning anyone's point, I think I have nothing to say
Philip De Extra
Mbitwes' mwanosu akitite utumwa nduketikile 🤣🤣🤣🤣🤣🏍️🏍️🏍️
Izzoh Sugut Jnr KE
These are some of the reasons for the early agriculture in Mesopotamia 
Apiya Nandwa
Si nilisema mtaachana tu now u have believed in Me .😂😂
Zack Zacky
What am waiting you to post..... Wachana na hizi vitu unapost 
Everline Eve
Na ukipenda pendeka, looking good
Millie
It depends nani ananiacha🤣🤣🤣🤣🤣 sigwesi achika😅
Emmanuel Wanjala
Mwenzio kaoa wewe bado unangojea Eric omondi wa maribe
Mwanasha Zani
Hata one minute haijaisha mushaporomosha macomment! Haaaaaa! 
Boni Mutiso
Hawa wanaume kibor akiongea kwa meeting wanakuaga wapi😏
Lydiah Uimbia
That curtain looks like my uniform back in college. Naomy Wa Joseph 🤣6metres🤣
Magufuli Benjamin
Huyu bado ni Eric omondi..... 🤔 Nani alifunza huyu kijana tabia mbaya hivi🤔
Martin Black
Confirmed by our Chairman that man will address our conference on Sunday
Lucas minabo
hyu jamaa anakneel ndio apewe ruhusa asome gazeti jioni? oooh what a looser! #Defundsimps
Kiprono Evra
Erick Omondi aajwe kabisa, he is the chairman of SDA, Small Dicks Association. When he peruses your page, he will drown having in mind that he is as well very poor in swimming. Viva BETTY KYALLO , you made the right decision, well informed. 
Content created and supplied by: CycleNews.com (via Opera News )