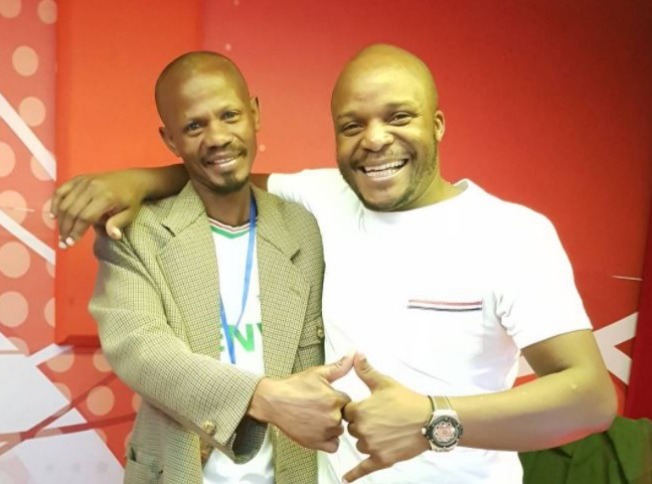 Radio presenter and digital media aficionado Felix Odiwuor better known as Jalang'o has come through for many people in their moments of need. The latest being former Tahidi High's Omosh.
Some are highlighted by the media and blogs- many remain behind the scene.
But he has also come through with top-dollar advice
In the wake of the 2017 political drama, a one-hit-wonder erupted- Githeri man. He provided the comical relief many needed at a time when the political temperatures would boil a pot of yam
Martin Kamotho from Kayole became an overnight celebrity after he was pictured with a bag of Githeri
Jalang'o penned this poignant letter to the online sensation then who has since disappeared under the radar and minds of Kenyans
Dear Getheriman
First, let me thank you for bringing the much-needed humor when the tensions were at 102 degrees and rising, I would log in to the IEBC portal to see how my preferred candidates were fairing on and I would be sad or happy but seeing your photos with Trump, Obama, Kanye and many more whom you were photoshopped with I smiled and laughed!
Now back to my letter, Githeriman you are not special neither did you do anything special but you are what I call a "Kenyan Moment "! A Kenyan moment is that moment where Kenyans come together to celebrate nothing, be happy about nothing, and anything! A few examples are " Nikama drama ni Kama Vindeo" "Kifi kifi " bwana yangu ameenda na maji " and many more…maybe readers will remind me of others in their comments! All of them are gone and forgotten! So people forget Kenyan moments and life goes on!
They will soon forget you and move on! I hear people saying that there are people taking advantage of you and exploiting you, don't listen to them but make the best out of it now, take everything you are being offered, eat everything, collect everything, accept everything before they forget you!
The same people saying these things have not offered you anything and will not! Soon and very soon as early as next week nobody will be talking about you because the brand Getheriman cannot stand beyond 1 month! Make sure that your team keeps tabs on everything everyone is offering you so that they can hold them accountable to deliver their promises before they forget you and their promises! I have seen a few good people around you the likes of Chris Kirwa, keep him close!
For now, enjoy the moment and if possible reach out to the young man who took your photo because without him you would still be in Kayole eating your githeri! 
Well, according to an article by Standard Digital, the man lives in a rented house in Saba-Saba area of Kayole slums; his single room cannot accommodate a small family. But he stays alone – his only companion being his cat. He says he parted way with the mother of his daughter sometimes back.
When he was invited to State House towards the end of 2017 to receive Head of State Commendation (HSC), Kamotho came back home with a cool Sh100, 000 token.
He was dressed in navy blue suits courtesy of President Uhuru's stylist who offered to dress him every August until 2022 to mark how Kamotho brought much-needed relief.
Kamotho and his uncle Gitua claim they have been visiting the store located in Kilimani, but they have never met the stylist. And so they decided just to stay away
He had also been promised a plot in Ngong, but Jalang'o TV has not verified if the same was realized.
Then there was Big Square Hotels along Mombasa Road. It is here that Githeri Man received Sh100, 000 token, optimistic that the joint will introduce githeri and pay him some commission depending on how the meal performs as assured.
Well, Big Square is still capitalizing on fast food, not githeri
Kamotho claims he pocketed good money but all that has made him poorer since no one offered a lasting solution or advised him afterward.
In fact, he was among 77 graduands who successfully completed a seven-month rehabilitation program at the Mama Care Rehabilitation Centre, Kiambu. President Uhuru Kenyatta was at the event.
Content created and supplied by: ROUNDUPNEWS.COM (via Opera News )