Empire of Lies Episode 23
Dario appears again to Elisa and threatens to kill her if she screams. He now controls her life and he is her worst nightmare.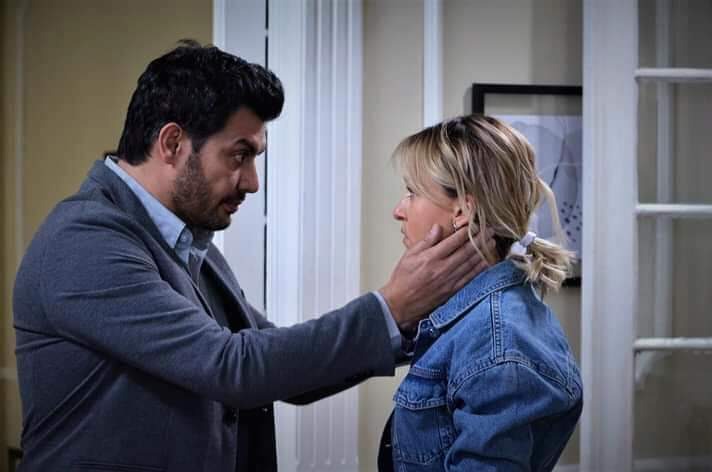 Leonardo continues to interrogate Marcelo. He informs him that Eugenio knows that he and Sonia are lovers. Marcelo tells Leonardo how Sonia found tje artifact in Eugenio's house along with some documents-Some invoices relating to Elisa's gallery. Invoices for millions of dollars. When he saw them, he realized that Augusto and Eugenio were partners. Augusto was in charge of the money and the accounting for the galleries and laundering all the money. Marcelo says he didn't know what was going on but he is sure Eugenio ordered Augusto's murder.
Fernanda is with his son and is irritated with something he is doing. She scolds Carmen-her mom telling her she told her not to bring your grandson to the apartment but the woman had to work. All the while Fabricio is present. Fernanda asks him to go to the bedroom but he declines. He leaves without kissing her.
Dario continues threatening Elisa. He can do anything he wans with her and her family. In the morning, he wants the final authentication documents and they are going to New York. Elisa refuses but dario informs her that there is a shipment from South America arriving at the gallery. She has to classify it, catalogue it, and personally turn it over to him. 
Elisa is fed up with him telling me what to do. Dario laughs sarcastically. He takes out his cell phone and asks Elisa to ask Majo how many times he has been to her house. He shows her a photo of him in the Cantu house, in front of Victoria with Maria José. Majo is in his hands, just like Elisa. He asks her to obey his orders and leaves. 
At home, Elisa confronts Majo demanding to know how many times she has allowed Dario in the house. Majo laughs telling her she is crazier than Renata but Elisa says that Dario told her so himself. Majo asks her to admit she is working for Dario and ks in contact with her kidnappers. Elisa replies Dario is forcing her and threatens to harm everyone and instead of helping her, Majo is against her. All Elisa wants is to protect her. The real enemy is Cobra and they need to be united. Majo looks doubtful. 
Leonardo updates the prosecutor's office on the situation, telling him that Marcelo is the key to it and that he will need protection.
Renata and Elisa have a sister talk. Agitated, she wants to see Marcelo but Elisa calms her down and tucks her into the bed. 
Victoria and Eugenio meet in a public place. She is unable to cope but again that's why she has Eugenio who asks Victoria to let herself be Victoria. The sommelier arrives with her favorite wine and Victoria is impressed. Eugenio is pleased with himself. He has scored at least a few points. He promises to take everything slowly.
Leonardo talks with his mother about the renovations to the house and her difficulties with Teresa. She tells him he needs to give up mourning Julia and look for happiness with Elisa. Later, Leonard has a disagreement with José Luis over the changes to the house. Finally it's decided that the place would be remodeled to provide an apartment for Sara. Teresa is fuming mad. 
Clara visits Justino in the hospital. She is careful with her answers to his questions about work. He asks her not to listen to her mom. She does not have to take charge of his care. She is not responsible for his illness. Julia died for that and he will never forgive that.
Leonardo and his brother talk about Rosa Teran. José Luis says that she had disappeared and is likely dead. Leonardo is still wondering how Julia had gotten involved in this. He says he will talk to Marcelo again.
Fernanda and Elisa discuss about a cocktail reception when Victoria arrives at the gallery. Elisa reminds her mother that the next day was the opening. Elisa carefully asks her about whether there have been any unfamiliar visitors to the house. Victoria says no and Elisa tells her that it is possible that Majo's kidnapper has been in the house. Victoria is shocked and Elisa tells her that she is planning to install CCTV cameras in the house for her peace of mind. She mentions going to New York. Later, Victoria goes to the construction office to talk to Fabricio. She hints about the possibility of a relationship happening between him and Elisa and convinces him to accompany Elisa to New York. 
Leonardo and Adriana were looking over Marcelo's secret apartment. 
Leonardo , Adriana, and Mario look at surveillance footage taken near Eugenio's house a few days before. Sonia appears in that footage in the dress she was wearing when she got abandoned on the yacht. Mario switches to the videos from the facade of Marcelo's building where Sonia exited a car. Shortly thereafter, Eugenio's car pulled out of the parking lot. Mario then shows Leonardo the footage he shot in front of Piedad's house, telling him that she is the Cobra's mother. He also knows that Majo had visited Piedad when she was in the hospital. Adriana says they need to talk to Elisa. Leonardo will speak directly with Maria José.
Elisa tells Fernanda that they still haven't found Sonia who is suspected of having had something to do with the stolen artifacts.
Leonardo goes to see Maria José and tells her of having been seen at the home of Dario's mother and at the hospital when Piedad was a patient. Majo denies. Renata arrives running down the stairs asking whether Marcelo is in jail which Leonardo confirms. She begins to panic and cry, saying that she have to see him. Leo promises to do something to help her. 
Majo calls Elisa accusing her of sending Leonardo on her. She does not believe Elisa's reply. Clara sneaks up behind her and reports to Dario that they are going to the gymnasium.
Elisa calls Leonardo to ask about why he was interrogating her sister. He tells her the truth, that she was at the home of the mother of the man known as Cobra. She says she will talk to Majo; he tells her to be careful and tells her about his conversation with Renata.
Dario pulls up and takes his car when he sees Majo and Clara on the street. She asks Clara to go home.
Fabricio goes into Elisa's office to ask her out to dinner and Fernanda sees them embrace over some positive comment about the opening. She quickly enters the office to prevent this going where she didn't want it to. When Elisa is out of earshot, Fabricio reminds her that he could not miss up the opportunity. Fernanda tells him she cannot stand seeing him with her.
Later on, Leonardo calls Adriana to tell her he needs to see her and Mario ASAP. Just then, Elisa arrives. 
Dario takes Majo to a spot overlooking a valley. She tells him she has to go home. She became nervous but Dario asks her to relax as he is not going to do anything to her. He just wants to be with her but she doesn't. She is going to tell Elisa who will call the police and storms out of the car but he follows her calling out her name. Dario says they can denounce or kill him. It does not matter. 
Majo asks why he is doing that to her. Because be loves her. He knows he has done many wrong things but he has never had a relationship like that. Dario explains that ever since he was a child, the only thing he learned was how to hate. But when he met Majo, everything changed. He wants to be a better person for her. Dario asks Majo to teach him how to love. 
Dario has a surprise for Majo specially made for her. A diamond which he puts around her neck. She loves it. They 😘 
Elisa gives Leonardo an invitation to the gallery opening. The two reassure each other of their love.
Content created and supplied by: [email protected] (via Opera News )
Opera News is a free to use platform and the views and opinions expressed herein are solely those of the author and do not represent, reflect or express the views of Opera News. Any/all written content and images displayed are provided by the blogger/author, appear herein as submitted by the blogger/author and are unedited by Opera News. Opera News does not consent to nor does it condone the posting of any content that violates the rights (including the copyrights) of any third party, nor content that may malign, inter alia, any religion, ethnic group, organization, gender, company, or individual. Opera News furthermore does not condone the use of our platform for the purposes encouraging/endorsing hate speech, violation of human rights and/or utterances of a defamatory nature. If the content contained herein violates any of your rights, including those of copyright, and/or violates any the above mentioned factors, you are requested to immediately notify us using via the following email address operanews-external(at)opera.com and/or report the article using the available reporting functionality built into our Platform See More