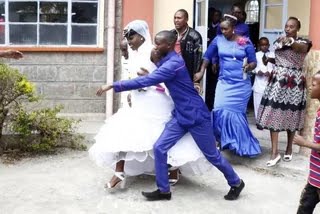 Drama ensued at ACK Jehovah Shammah Church in Nakuru after a pregnant woman stormed an ongoing wedding claiming that the groom was already married to her but had deserted her while pregnant.
Armed with a Doctor's report indicating that she is six months pregnant, 21-year-old Agnes Wanjiru brought business to a standstill as she attempted to block Agnes Wangari and Dennis Kinyanjui from tying the knot.
According to Wanjiru, she has lived with Dennis as husband and wife fror the last 3 years until recently when the latter walked out of the union, leaving her pregnant.
She further claimed that the groom has two other girlfriends who were not aware of his controversial wedding.
While speaking to a local radio station in Nakuru (Changei Fm), She claimed that she had an order from a lawyer barring Saints Fellowship preacher Stephen Kariuki from conducting the today's Saturday wedding climbed over the gate to storm into the church but found the door locked with the congregation inside.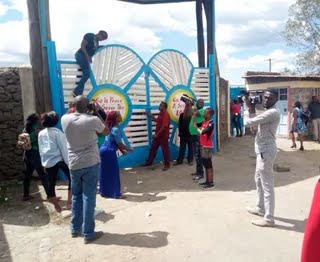 Property of unknown value was destroyed during the confrontation that ensued as Agnes' supporters attempted to gain entry into the church.
Keen not to have their big day ruined, the couple exchanged their vows with the doors locked under the leadership of Pastor Livingstone Kimani of Heroes of Faith Church, Ponda Mali.
Thereafter, they sped off from the crowd, leaving behind a distraught Agnes who vowed to have DNA conducted once the baby is born and have Dennis take full responsibility of a father.
From the onset, everything was carefully laid out as if expecting trouble with ushers keenly guarding the doors and security on stand-by at the gate.
An usher curtly reminded unwelcome guests that "This is an invites-only event. It is a celebration of love, because the love birds got married months ago and nobody opposed it".
Leave a comment in the comments section and follow for more news updates.
Content created and supplied by: Hustlerscandidate (via Opera News )