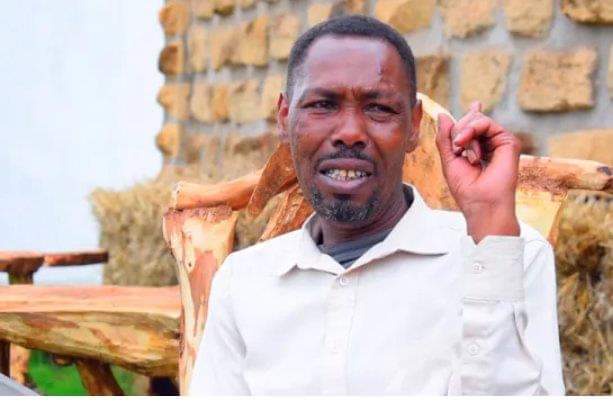 Former Tahidi High actor Omosh left many people in a sad state after he was seen crying while disclosing the much pain that he has been going through in life since he left the world of acting.
However, he has a reason to smile after high profile leaders came out and have promised to help him back to his feet through financial assistance after having watched the sad clip on Saturday.
Among them is former Taita Taveta county woman representative Honourable Joyce Lay, she has since cone out saying that she would want to support him. She has requested fur a platform to be created in order to reach the firmer actor.
"I also want to support him.Let a platform be created, for other Kenyans to contribute.He is a great artist.Wakenya tucheze kama sisi 💪🏾What happened to the 100m money for the Artists?"Honourable Joyce Lay.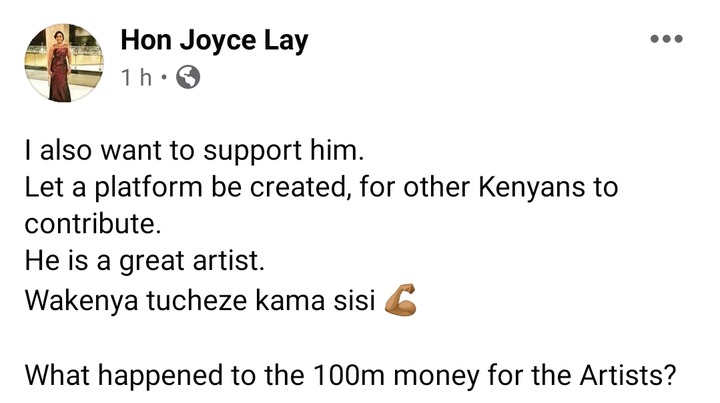 Another high profile leader is politician AliNur Mohammed who noted that he had been touched by the story of Omosh who was his favourite artist in the Tahidi High drama that always featured every Tuesday in Citizen TV.
"I have been touched after watching a video of Tahidi High's Omosh breaking into tears as he pleads for help. He was my favorite actor in Tahidi High thanks to his acting skills. Like many other Kenyans I am going to stand with him financially so that he can bounce back to life."Politician Ali Nur.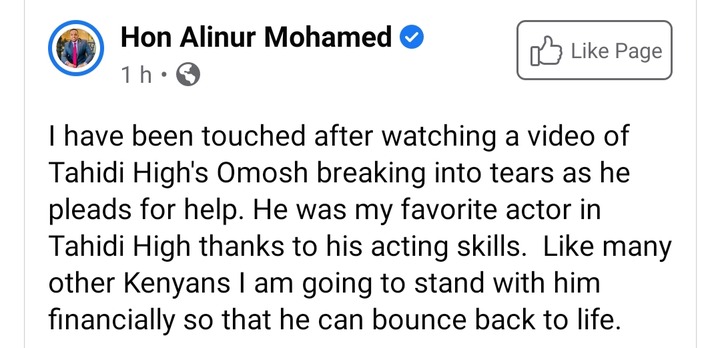 He has noted that he will stand with Omosh in order to see him stand on his feet once more until he goes back to financial stability.
Below are reactions from Kenyans.
"Celebrities need to embrace some financial savings to ensure their future days are in safe mode. Otherwise we ordinary kenyans are suffering more than them but we don't cry for emphathy. Why should a problem of one of your own sounds special than of many millions kenyans doing hand to mouth?Muache upuzi. Kila mtu apambane kivyake."Andi
"Huyu omosh should be creating jobs for youths sio kulia Sasa.... 100 youths should be the least in his employment list... Sasa analilia youths wamsaidie na hawana job !!! Misuse of finances killing our economy. Celebrities, do better"Diani
"Kenyans get broke everyday and recover. I don't know why these guys in the showbiz think that once they make poor financial decisions or get broke they can come whining to their consumers."Kuria
"This country has one BIG problem most of the so called waheshimiwa are just empty heads hidden in shouting and glittering attires. Instead of waiting for people to get to such sorry states why can't you simply stop stealing from poor Kenyans through your dubious and corrupt dealings?? You have stolen everything from the citizens and I can tell you several of them are living in very pathetic states. Stop these comics come up with legislative measures and strong policies to cushion Kenyans from economic exploitation "Would
Content created and supplied by: Jay_Moh (via Opera News )